Thousands welcome canoes to Quinault
by Brandi N. Montreuil, Tulalip News
TAHOLAH, WA., – Thousands of visitors descended on the shores of Point Grenville near Taholah, WA, on Thursday, August 1, to welcome 69 canoes making their final landing during the Paddle to Quinault 2013 canoe journey.
Themed "Honoring our Warriors," the Quinault Nation, who last hosted in 2002, hosted this year's journey.
The first canoe was spotted around 1:30 p.m. and by 2:00 p.m., there was a steady line of canoes requesting permission to land on the shores, where traditionally the Quinault people brought in whales.
A total of 89 canoes made the journey this year, including canoe families from Canadian First Nations, Native Hawaiians, and groups from New Zealand.
"I am so excited for the Quinault people," said Quinault President Fawn Sharp. "It is so important to celebrate our traditions; to keep our heritage alive for future generations. It's a sunny day for our people."
Coast Salish tribes, many who had been traveling for a month, traveled in traditional cedar canoes along the customary waterways their ancestors traveled for trading and visiting.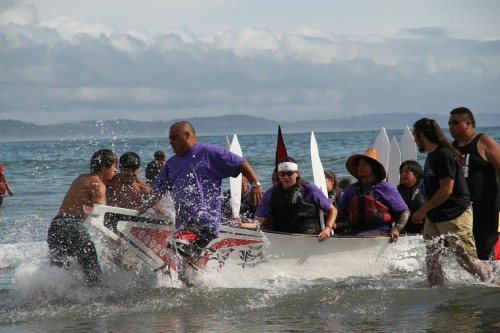 Thousands of Native and non-native visitors waited on the beach for canoes to make the final turn around the bluff of Point Grenville. As each canoe neared, visitors could hear the distinctive grunting of pullers, paddling in unison as they navigated the surf to make a safe landing.
"This is a truly awesome event," said Quinault Tribal Councilman Rich Underwood, who emceed during the landings. " I am so glad to see so many people on the beach. This is the most people this beach has seen in over 100 years."
Quinault Nation leaders and dancers welcomed the visiting canoe families in traditional style with singing and dancing as canoes landed and were granted permission to come ashore to rest, eat, and visit.
It was perfect day for a canoe landing. The ocean was relatively calm and the morning fog burned off quickly, increasing visitors' visibility. Although the landing this day was smooth, many of the landings along the way were plagued with unsafe water conditions created by the changing weather patterns. Along the journey some pullers experienced capsizing while trying to pull through the pounding surf that separated them from the safety of the shore.
Tulalip's canoe family experienced their own challenges along the way, from fatigue to being forced to trailer the Tulalip canoe Big Wolf because of dangerous water conditions, to mechanical problems with the follow boat.
Tulalip tribal member and canoe caretaker Jason Gobin remarked that while most of the journey went well, it was difficult because fewer Tulalips participated than in years past. "It was tough at times because we had no relief pullers, but the crew toughed it out. We didn't get to pull every day like I'd hoped, mostly due to the conditions on the water. Safety is the biggest thing on journeys. But we did get to pull out here on the ocean and get some experience."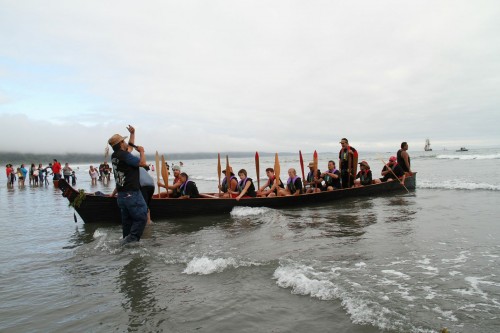 The landing kicked off a weeklong celebration that continued around the clock until August 6.
A 70-foot story pole, carved from a 1,000-year-old red cedar tree was dedicated during the celebration to Emmett Oliver for his efforts that led to the renewal of the canoe journey, and to Quinault tribal leader Phil Martin. The tree was from a section of Quinault forestlands, which was set aside for traditional use, and carved over a period of three months by Quinault tribal members James DeLaCruz, Jr., Marco Black and Brian Comenote.
"The Totem reflects the connection of the Quinault people with the land and the animals. These are the things that make us Quinault," said Guy Capoeman, journey coordinator.
Oliver, Quinaults eldest member at 99 years old, was able to witness the landings and was said to have been very pleased that the journey was still reconnecting Indian people with their history, culture and heritage.  In 1989 he organized the first journey, Paddle to Seattle, to coincide with the State of Washington Centennial Celebration.
Quinault also plans to change the name of the site from Grenville to Hanishu Point in honor of Phil Martin, whose traditional name was Hanishu. Plans are also being prepared to build a museum, assembly hall and carving shed at Hanishu Point after the canoe journey.
Andrew Gobin contributed to this article
 Brandi N. Montreuil: 360-913-5402; bmontreuil@tulaliptribes-nsn.gov
Short URL: http://www.tulalipnews.com/wp/?p=13714
Posted by
Brandi Montreuil
on Aug 7 2013. Filed under
Local News
. You can follow any responses to this entry through the
RSS 2.0
. Both comments and pings are currently closed.