By Kalvin Valdillez, Tulalip News 
The art of storytelling has been passed down generation after generation since time immemorial. In Native America, stories are shared to teach youth valuable lessons while incorporating traditional songs, dances and language. Sacred animals such as killer whales, eagles, wolves, bears and ravens often play a role in many traditional stories as well as legendary creatures like Slapoo, Sasquatch and Thunderbird. Indigenous stories explain the mysteries of the universe like how the sun, stars and moon came to be and also emphasizes cultural values like respecting your elders, helping your community and practicing your ancestral teachings. 
As technology advanced, storytellers began to explore new forms of storytelling through art, poetry, music, film and animation. Classic stories have been given new life through film and new ideas are created to raise awareness about current issues in the Native American community like climate change, declining fish runs, missing Indigenous women, suicide and overdose. Native musicians often use their storytelling abilities to construct powerful songs that promote positive messages about protecting our waters, healing from generational trauma, decolonization and of course, finding love. 
In today's fast-paced social media society, the most popular form of storytelling is multimedia. Thousands of creative Native minds upload visuals to platforms like Facebook, YouTube, Snapchat and Instagram every day, whether they're showcasing their comedic skits, music videos, news or short films, the artists are using their voice, video footage and photos to perfect the art of storytelling. 
On the first day of fall, September 22, the Hibulb Cultural Center hosted their annual film festival, celebrating the new wave of storytelling. Local and international filmmakers were invited to share their work with the Tulalip community and nine video entries were selected for this year's festival, which was centered around music. 
"This year is the 6th Annual Film Festival, with a music theme entitled Frog Catches a Song," says Lena Jones, Film Festival Organizer and Hibulb Cultural Center Education Curator. "The Hibulb Cultural Center Film Festival initially began as a way to celebrate the power of cinema, to tell the stories of our many cultures and to honor and recognize Coast Salish filmmaking and filmmakers. We always hope to introduce or strengthen the filmmaking and artistic talents within our own community. This year, we continued to receive outstanding programming with films that featured traditional and contemporary music, language and culture. The festival had an international flair as well, by films from Tomer Werechson of Israel, Bernard Weilavani (Wolfsheart) of Austria, and Ian McKay-Weaselfat of Canada."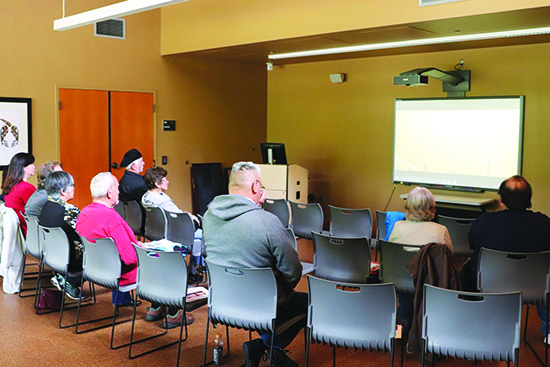 La Gran Final de Piano, by Tomer Werechson, was a one-minute film about an old, classic piano but the keys played the kicks and snares of an 808 drum kit, much like a modern midi-keyboard. Bernard Weilavani, professionally known as Wolfsheart, is a Native American flutist who submitted two of his music videos, Walking the Wolf Path and Wolfsheart House of the Rising Sun. And First Nations rapper, Ian McKay-Weaselfat, chose to share the music video for his song, Puppy Love. 
Tulalip filmmaker, David Spencer Sr., participates in the festival every year and creates his films based upon the theme. Last year, David wowed the crowd with his movie, Waiting for Blackberries and followed this year with I Am Frog, which was performed entirely in Lushootseed. David received the Best Film Award this year for his fifteen-minute presentation which included original songs and photos within his film. 
"It's a story about frog who didn't have a song," says David. "She despised all her friends; crow, coyote, bear and owl because she didn't have a song. All of them offer advice on how to prepare yourself to get a song. Once she realizes they're trying to help her, she gets her song. The moral of the story is, even though we all may despise somebody or they might despise us, we're meant to come together and to do this spiritual work and help one each other out."  
Following I Am Frog, the Film Festival featured an important screening, created by Lummi tribal member Freddie Lane, about the southern resident orcas and the Lummi Nation's effort to return the last remaining poached orca, Tokitae, back to the Salish Sea.
"This year, the judges chose to honor Frederick "Freddie" Lane for Special Recognition for a Lifetime Achievement in Filmmaking and Cultural Sharing," states Lena. "He has been an important voice in the nation. His film Qwel lhol mech ten (the People that Live under the Water) is exemplary of his commitment to protecting the earth, educating communities about tribal history and standing with leaders to preserve and promote the Coast Salish way of life for all future generations. Qwel lhol mech ten received the Best Documentary Short Award."
Three local film lovers were selected as judges for this year's event, Brit Reed (Choctaw), Robin Carneen (Swinomish) and Lois Landgrebe (Tulalip). Robin judged over half of the festivals throughout the years and assisted with this year's theme and artwork, stating the story Frog Catches a Song came to her in a dream. 
"It's fascinating seeing all this creativity," expresses Robin. "I used to do a lot of media with the kids here at the Boys and Girls Club. I really wanted to help create more storytellers in the generations that are coming up. I'd definitely like to see more youth films; however, I'm thinking maybe we need to have a youth film festival and really challenge the youth to turn in some films and explore storytelling. In the meantime, we've had some really great entries. This year was unique and that's what I love about film festivals, you don't know what each film will look like because everyone's a storyteller but they tell their stories in different ways."
Robin's love for multimedia led to a large involvement during the 2018 film festival. This year she spread the word by inviting local filmmakers and musicians to participate from the many forums that she follows on Facebook. The invitations gained a lot of inquiry and three films were submitted resulting from the social media outreach, including the two Wolfsheart music videos and a four-minute film called Thought Dream by Edmonds songwriter and filmmaker, Ed Hartman. 
"They found me on Facebook," said Ed. "I'm a composer and I make videos mostly to promote my music. I post my videos on different filmmaker pages and groups because I'm trying to score movies in the future. They invited me to submit to this festival so I went ahead and did it. It's a wonderful, intimate festival. The film was this serendipitous moment. We live in Edmonds and go down to the beach quite a bit. There was a guy who was releasing giant bubbles and all I had was my phone with me, so I started to shoot some video. There was smog out at that time, it was late in the evening so the sun was on the low horizon.
"When I got back in my studio I looked through my music to see what matched the footage," he continues. "I found an interesting track that matched called Thought Dreams. Very much like the theme of this festival, Frog Catches a Song, everything about this project has been just that; catching the bubbles, the bubbles catching the sun, the festival catching me, the video catching the song. Everything's coming full circle and I'm just thankful for the invitation, this absolutely inspires me to work more on the filmmaking side."
The attendees were intrigued by a film about Hispanic American artist, Roberto Chavez, who is famous for his murals in Los Angeles during the seventies. The film, The Execution Painting, was a time-lapse of the artist painting a bar scene which featured many people of different ethnicities enjoying a good time. While he created his mural he spoke about his art being destroyed on walls throughout the city, before painting over his own mural with white paint, seconds after it's completion. 
The afternoon ended with an informational film put together by the Hibulb Cultural Center. The video explained the history of Tulalip music beginning with traditional songs performed during ceremonies. During the boarding school experience, several Tulalip tribal members picked up instruments such as the trombone by Robert Shelton and the violin by William Shelton. Many Native girls were in choirs and as the video explains, standout vocalist Maria Sneatlum became Tulalip's first opera singer.
After a year's worth of hard work, the Hibulb Cultural Center film festival featured many important and intriguing films. The museum will continue hosting their monthly film series with the next screening held on October 18 at 6:00 p.m. about cultural survival and Indigenous child removal. 
"We are grateful to this year's judges," says Lena. "We also thank film volunteer Mike Van Luvan and Cary Williams who opened the event with his exceptional flute playing. As always, we encourage Tulalip members who are interested in filmmaking and media work, or any artform, to continue following their interests or passion. Filmmaking is a great avenue to share your voice and is a valuable artform to preserve cultural art, language, and ideals. It gives us the means to unite communities and showcase the beauty in our culture and our community."
To view the films featured at the 6th Annual Hibulb Cultural Center Film Festival as well as the winners, please visit www.HibulbCulturalCenter.org