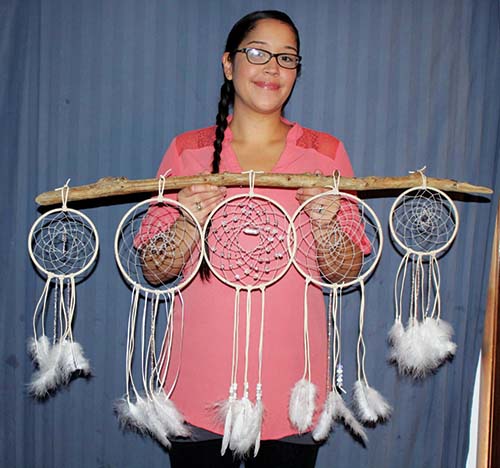 By Kalvin Valdillez, Tulalip News
According to the traditional Ojibwe legend, dreamcatchers first originated when members of their nation began to disperse throughout North America. The Ojibwe believed in a spiritual protector named Asibikaashi, or Spider Woman, who took care of the younger generations. As her people left the land, she had a difficult time reaching all of the children of the Ojibwe Nation and keeping watch over them. For this reason, she taught the mothers, sisters, aunties and grandmothers how to make sacred hoops, with webbing similar to hers, to protect the children while sleeping. When placed near the child's bedside, the hoops catch all of the dreams, good and bad, passing through the night air and allow the good dreams to enter the child's thoughts, while trapping the bad dreams in the webs. The bad dreams are burned away once daylight reaches the webbing. Since then, dreamcatchers have become popular keepsakes and many people, including non-natives, still believe the sacred hoop's power of filtering dreams and nightmares.
Tulalip tribal member Dinesha Kane's journey to creating dreamcatchers began when she lost her mother to an overdose. After enduring months of heartache, Dinesha gathered the will to attend a beading class taught by Winona Shopbell-Fryberg and Cyrus 'Bubba' Fryberg which ultimately led to the start of her new company, Coast Salish Concepts.
"I actually find art very therapeutic; I've liked art my whole life. After I lost my mom, it was really difficult, so I turned to art," Dinesha expresses. "I started beading with Winona and Bubba, I went to their class and fell in love with it. From there I wanted to learn more. I wanted to learn weaving so I took a class. I couldn't find any dreamcatcher classes, so I figured out how to do it on my own. I looked at enough dreamcatchers and figured how to deconstruct a couple, and from there I just went nuts."
The majority of today's dreamcatchers are manufactured by non-Indigenous companies, while all of Dinesha's products are authentic Native American dreamcatchers that are often customized to the client's wants, needs and aura. Dinesha's unique creations also promote healing, as each dreamcatcher contains raw crystals. During her first year as a business, she has made numerous dreamcatchers of various sizes, colors and designs, including chakra sets.
"The chakra, we all have it within us. All our colors represent different parts of body from head to the ground," she explains. "I got into healing and chakra through reiki, the crystals came with yoga. Because of my diagnosis, fibromyalgia, the medicine wasn't working so I went the holistic route. From there, with my teas and my new home garden, came the crystals and chakras. I'm able to hold the crystals over whatever plexus I'm hurting or feeling on. I think it ties into our culture because we are a natural people. We eat off our land, only take what we need, we give back, we share and we heal through nature. I think that's how I found my roots and my healing. I give you my food that will help you heal, my tea that I dried out myself, or my dreamcatchers with the crystals"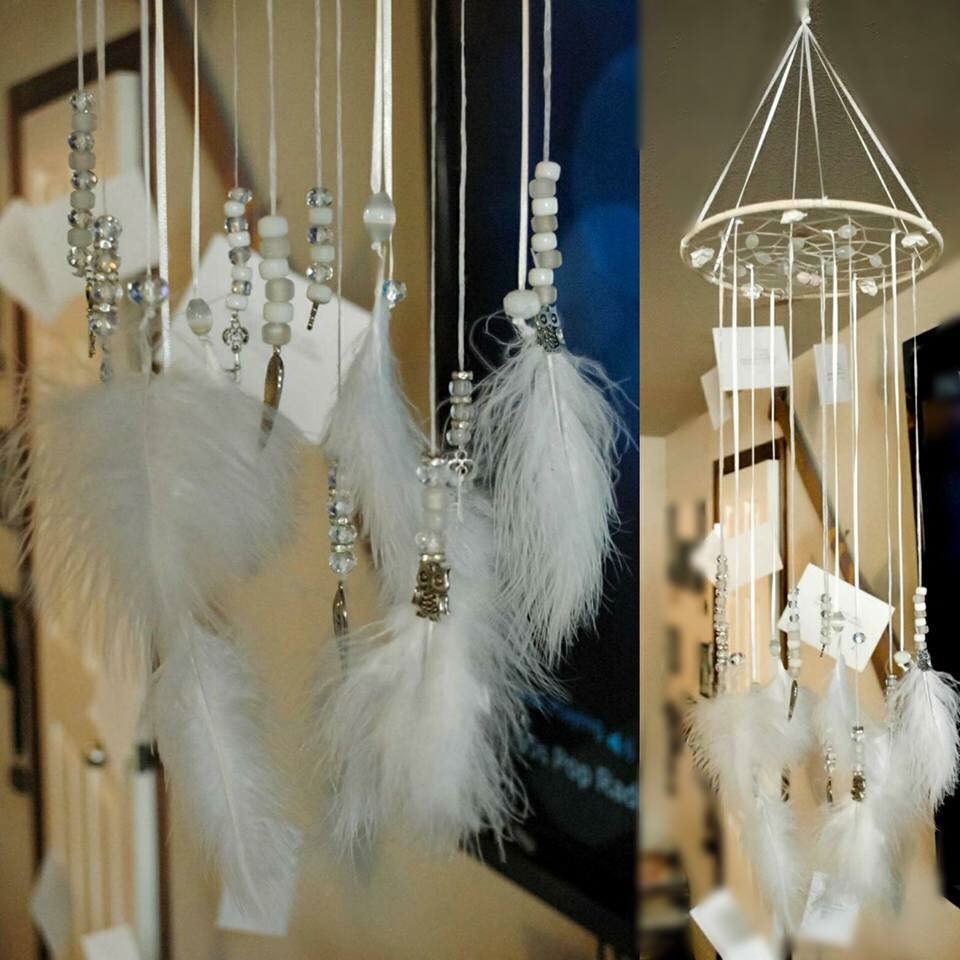 While working on a dreamcatcher for her sister, Dinesha stumbled across an idea that may very well make Coast Salish Concepts a household name in the near future.
"I was working on my sister's dreamcatcher and happened to be sitting with it [horizontally] and something dropped. That's when I thought that it would be kind of cool and unique to make the dreamcatcher horizontally instead of vertically. From there I started stringing it down, piece by piece and low and behold here comes this wonderfully made baby mobile and everybody loved it."
Dinesha has already made a few customized dream-catching baby mobiles, including Harry Potter and mermaid themes. And although she is sure to see success with her dreamcatchers, Dinesha maintains that her sole focus is assisting the people of her community.
"I'm not in this to make a million dollars or to be the next great artist," she states. "I just want to help people. Most of us come from very troubled backgrounds and a lot of us make it through, some of us don't. I'd like to be able to help kids heal their own pain through learning how to make art. Winona really did that for me, sitting and talking in that circle, learning how to bead and learning our own tradition. That feeling, how well I felt after the classes, I want to be able to do that for others because I know people hurt like I do. Whether it's past trauma, or the loss of a mom or a grandma from cancer, I've seen death from all different ways. I've never found better strength than going back to my own roots."
Dinesha's future plans for Coast Salish Concepts include a storefront where she can sell her dreamcatchers, tea and artwork, which also doubles as yoga studio to promote all around healing. For more information about the dreamcatchers and Coast Salish Concepts please contact Dinesha and JT Kane at (425) 876-8788. And to view more designs, please be sure to visit the Coast Salish Concepts Facebook and Instagram pages.