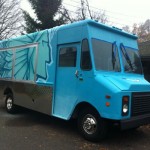 Off the Rez, a mobile food truck has been serving up Native American eats around Seattle since 2011.
The outfit of Mark McConnell and partener Cecilia Rikard, Off the Rez is inspired by Native American food, a cuisine generally not found on menus around Seattle. McConnell, A Ballard native, grew up on Indian tacos, frybread and other foods that his mom and grandmother would cook for gatherings and special occasions. Marks; mother grew up on the Blackfeet reservation on Montana.
McConnell says he originally intended to open a restaurant but opted for a mobile operation. The Native food truck can be found at lunchtime around downtown, with possible stops in South Lake Union and late nights on Pike Street and Capital Hill.
This not-to-be-missed truck of tasty meals features a mural of a chief in a war bonnet on one side and a fellow smoking out of a peace pipe with a scene of Seattle on the rear.
The highly-rated menu includes pulled pork smoked for ten hours, a bacon burger, and frybread and tacos, slathered in homemade jam or chicken chili verde.
You can find the Off the Rez truck on Facebook. The Capitol Hill stops are fairly regular, from 10 p.m. to 2 a.m. by the Caffe Vita at 1005 E. Pike St.
By Kim Kalliber, Tulalip News staff