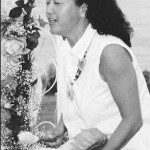 "Gwayatol"
Kimberly Lee Simpson of Tulalip, WA, born on April 14, 1963 to Curtis "George" Taylor and Betty Gobin passed away peacefully at home on January 18, 2013.
She was preceded in death by her brother, Gordon Taylor; aunts, Virginia and Ida Schlosser and Genevieve Williams; uncles, Dallas Taylor Jr. and Ron Kona; niece, Shannon Taylor; nephew, Dallas Taylor; and father, "Papa Smurf" Curtis George Taylor.
Kimberly is survived by her loving husband, Rodney Jr. of 36 years; sister, Connie (David); brother, Calvin (Marguerite); brother, Clifford (Janet); sister, Sharon (Steve); and brother, Lance (Tammy); her children, Lavon, Malory, Rodney III (Jaedean) and Shana. She also leaves behind her very special grandchildren, Wanisa, Cruz, Elyssa, Meriel, Shylah, Ashlynn, Ryelon, Caleb, Solay, Tiyanna, and newest granddaughter, Kiley.
She worked at Casey's Grocery Store in Tulalip at a young age and then moved on to working at the Tulalip Bingo, Tulalip Family Services, Tulalip Police Dept., and was also a proud Business Owner of Native Grounds Espresso, in Tulalip.
Kimberly was a very dedicated mother and grandmother, she loved to spend time with her family and pets. She enjoyed sharing her creativity through her bead work and art work, and trying new recipes, cooking and baking delicious dishes for her family.
Kim had the most beautiful smile that could illuminate any room no matter how big, her laugher lifted many spirits. She left behind strong family teachings and values that her husband and family will always remember.
A visitation will be held Tuesday, January 22, 2013, 1 p.m. at Schaefer-Shipman Funeral Home followed by services at the family home at 6 p.m. Funeral services will be held Wednesday, January 23, 10 a.m., at the Tulalip Tribal Gym with burial to follow at Mission Beach Cemetery.