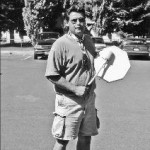 Jerry Dale Kline (Cope)
June 2, 1959 – Feb. 15, 2013
Jerry passed away on February 15, 2013 at the young age of 53 at Harborview Medical Center due to injuries from a serious bicycle accident. Jerry was born June 2, 1959 in Port Angeles, WA to Dale and Leona Cope.
Jerry was an enrolled member of the Jamestown S'Klallam tribe in Blyn, WA. Jerry went to school in Lowell, Snohomish and Lake Stevens. He worked as a roofer, and in construction all of his life.
Jerry led a very full life and loved his family and friends. He lived most of his entire life in Snohomish. Everyone he touched has a treasured memory which they will carry with them throughout their life.
He is survived by his mother, Leona; special love of his life, Annette Houde; son, Jeremy Cope; brothers, Ken (Marcy) Kline; Wayne (Shannon) Cope; sisters, Theresa (Sony) Lehmen, Deborah Hutsell, Renee (Ken) Hoerath, Donnita (Darren) Petersen; two grandchildren; and numerous nieces, nephews, cousins, and other family.
A Celebration of Life reception will be held on Saturday, March 9, 2013 from 2-5 p.m. at the Snohomish North Depot, 1011 Maple Ave., Snohomish, WA. A second celebration will be held on June 2, 2013 from 1-4 p.m. at the Red Cedar Hall of the Jamestown S'Klallam Tribe in Blyn, WA.
Contributions can be made in his name to Tulalip Boys and Girls Club, 7707 36th Ave NW, Tulalip, WA.