By Kirk Boxleitner, The Marysville Globe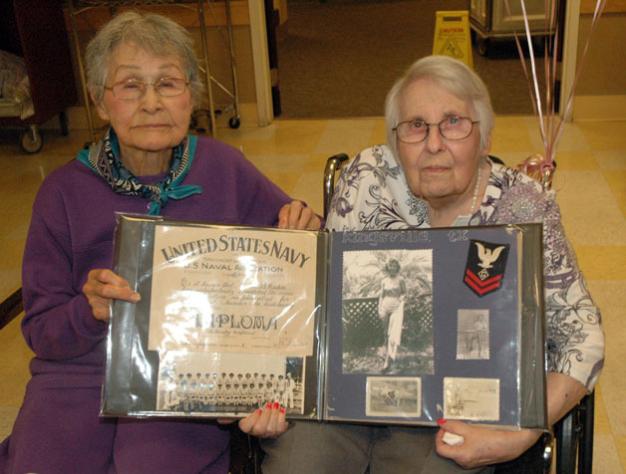 EVERETT — Even though Barbara Caton VanderVeer is not a Tulalip Tribal member herself, she can still remember what the Tulalip Indian Reservation looked like more than 80 years ago.
VanderVeer turned 90 years old on Feb. 26, and not only did her family help her celebrate her birthday at a party at the Providence Regional Medical Center in Everett on March 2, but so did her best friend, Blanche Coy James, a Tulalip Tribal member with whom VanderVeer grew up on the reservation.
"I came to Tulalip when I was 6 years old," said VanderVeer, whose father was a carpenter who taught his trade to students at the school on the reservation. "I wound up staying there for the next 12 years. I met Blanche in the second grade, and we graduated together from Marysville High School."
"I'm 7 months older than her, and I won't let her forget it," James laughed.
Although VanderVeer and James briefly lost touch during World War II, they reunited by chance in Seattle shortly after the war, around the same time that VanderVeer met her future husband.
VanderVeer was kept busy during the war by teaching gunnery to fellow sailors in the U.S. Navy, for which she still proudly shows off her certificates and rank patches. Between the time she entered the fleet in 1943 and when she got out nearly three years later, she was promoted up the chain to petty officer second class.
VanderVeer acknowledged that being stationed in Corpus Christi and Kingsville in Texas as part of her service marked quite a different climate from what she was used to in Washington, but in many ways, the local area that she and James grew up in is almost as stark a contrast to the region as it stands today.
"It's a different world now," VanderVeer said. "The forest came right up to the buildings. I think people helped each other out a bit more then."
"We would walk around in the dark and not even worry," James said.
"Just getting to Everett was quite an endeavor back then," VanderVeer said, before laughing, "Of course, part of that was because my father was a lousy driver."
In the years since then, VanderVeer's family has grown to include one daughter, four grandchildren, seven great-grandchildren and three great-great-grandchildren.