The Legislature is considering legislation that aims to prevent old vessels from turning into costly environmental problems.
By Maureen O'Hagan, Seattle Times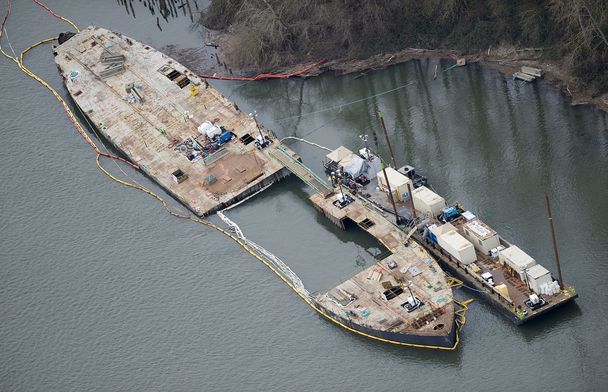 When Bret A. Simpson heard the hulking old barge Davy Crockett was for sale several years ago, "he saw the steel and he saw dollar signs," said assistant U.S. Attorney Jim Oesterle.
Simpson, of Ellensburg, figured he could scrap the 400-foot former Navy ship and walk off with a tidy sum.
"He probably regrets that decision," Oesterle said. Because in the midst of his ragtag scrapping operation, the Davy Crockett began spilling oil into the Columbia River.
On Monday, Simpson was sentenced to four months in federal prison plus a period of home detention, community service and supervised release for violations of the Clean Water Act. The mess cost $22 million in federal funds to clean up.
It was the first time in Washington that a boat owner was sent to federal prison in such a case.
But Simpson is by no means unique as a boat owner. Hundreds of derelict or abandoned vessels sit on Washington's waterways, in constant danger of drifting or sinking. When that happens, the state Derelict Vessel Removal Program is forced to step in, sometimes at a cost of millions of dollars. There is now broad agreement the state has neither the money nor the authority to truly address the problem.
Some of that may change. Both the House and the Senate are considering legislation this week that aims to prevent old vessels from turning into costly environmental problems in the first place.
"The bill changes the focus of the Derelict Vessel Removal Program to prevention over cleanup," said Rep. Drew Hansen, D-Bainbridge, sponsor of the House bill.
Among the provisions under consideration in both bills are some aimed at making boat owners register their vessels as required.
This would make it easier to track down the owners of problem vessels — a huge, and sometimes insurmountable hurdle in these cases. The legislation would create civil penalties for those who fail to register.
Also proposed is a pilot vessel turn-in program where an owner can give the state custody of a vessel before it's a real problem.
A third provision would require owners of older, larger vessels to obtain an inspection before selling. This, said Melissa Ferris, who runs the state Derelict Vessel Removal Program, might dissuade some people from buying problem vessels when they don't have the means to repair them.
Ferris recalled one recent case in which a young man bought a trimaran for $100. Only later did he realize "no marina was going to give him moorage because it was rotten and horrible looking and had no mast," Ferris said.
It ran aground in a storm one weekend, and the state is billing the man for the cost of removal, more than $20,000.
"Talk about a game-changer for your life," she said.
Boat sellers who fail to get the required inspection could be held liable for some of these cleanup costs, under the legislation.
"We're trying to hinder some of these transactions that just happen in a bar somewhere," Ferris said. "Is it the end-all be-all? No, but it's a step in the right direction."
Another provision would prohibit public agencies from selling a vessel that isn't truly seaworthy. The agency would either have to repair it before the sale or dismantle it.
That was at the root of the problem with the Deep Sea. The Port of Seattle sold the 140-foot former fishing vessel to a scrap dealer who didn't really have a good plan for it. The scrap dealer, a Maple Valley man with a long history of troublemaking, parked it in Penn Cove and left it. It caught fire and sank last spring, and cost $5.4 million to clean up.
Another provision under consideration would allow the Department of Ecology to board troubled vessels and check for pollution threats.
With little to no opposition to the House and Senate bills, some version of the legislation is expected to pass.