Source: Indian Country Today Media Network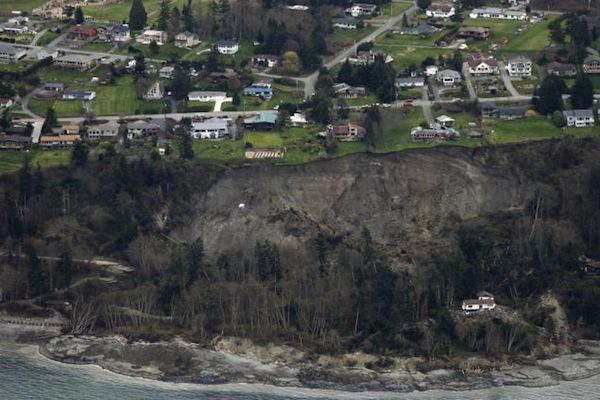 But for a dead flashlight battery, Bret Holmes would be buried in a pile of dirt at the base of a newly formed cliff.
Staying in the Whidbey Island home of his recently deceased father and stepmother while he readied it for sale, Holmes was awakened at about 4 a.m. on Thursday March 28 by an earthquake-like rumbling sound, he told The Seattle Times. He ventured outside with a flashlight in the pre-dawn hours and had just time to note the absence of about 20 trees, some of them 200 feet tall, before his flashlight battery died. He went inside for a new flashlight and came back to find that "where I had been standing was no longer there," he told the newspaper. The landslide, 400 to 500 yards wide and descending 600 to 700 yards down toward the water, ate 75 feet of the backyard, which now ends in a sheer drop.
No one was injured or killed when a 1,000-foot-long piece of coastline slid off the island's west flank in the community of Ledgewood and into Puget Sound. But it brought one home down with it, pushed another one 200 feet offshore and endangered at least 17 others on top of the cliff. It also destroyed 300 or 400 feet of the road that had led to the shoreline, Central Whidbey Island Fire and Rescue Chief Ed Hartin told The Seattle Times. Another 16 homes were evacuated below the cliff by boat, since they are no longer accessible by road, Hartin told the Associated Press.
Now a dozen or more evacuees are uncertain of when they can return, since it could be weeks before the ground stops moving, said Terry Swanson, a lecturer for the Department of Earth and Space Sciences at the University of Washington, to The Seattle Times.
Swanson said that far from being due to climate change or a strong winter, the slide stems from a geological issue dating back 15,000 to 18,000 years, when the Vashon glacier started to advance and retreat. That action left a layer of rock the consistency of ground-up concrete, another of sand and a third of clay. Years of water accumulation eventually made it soft, and today landslides are common along the 35-mile-long, 60,000-population island, he explained.
Whidbey Island—or Tscha-kole-chy, by one American Indian name—was originally the home of the Chehalis, Nisqually, Duwamish, Snoqualmie and Snohomish tribes, among others, according to Historylink.org, a website that focuses on Washington State history.
Read more at
http://indiancountrytodaymedianetwork.com/2013/03/29/landslide-takes-slice-out-whidbey-island-washington-state-148436