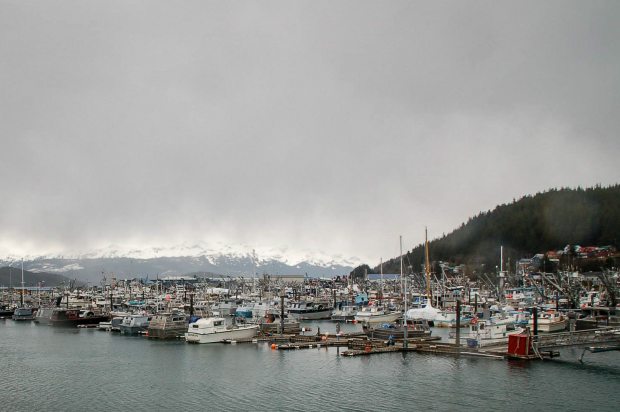 By Jerzy Shedlock, Alaska Dispatch
The Copper River salmon season began early Thursday amid windy, dreary weather. But the gray skies didn't stop Alaska's commercial fishermen from crowding the waters to participate in one of the state's most renown wild salmon runs, a highly prized stock of kings and reds famous in Alaska and the Lower 48.
Troll and drift gillnet fishing occurs earlier in May, generally in Southeast Alaska, but the Copper River represents the first big salmon run of the spring.
Restaurants race to be the first to get high-quality king and sockeye salmon to diners.
Gnarly weather subsides
The season began at 7 a.m. Thursday, and gillnet fishermen will fish the Copper River Delta for 12 hours. The forecast initially called for gale-force winds, with gusts up to 45 mph by midday. But Mother Nature sided with the fishermen for the most part. The National Weather Service is now predicting scattered rain and snow showers throughout the day, with winds possibly reaching about 30 mph.
Severe weather predictions didn't prevent boat crews in Cordova from ramping up preparations Wednesday afternoon, with crews scrambling to set up their nets. They departed around 6 p.m., hoping to spend as little time as possible in the waters if the winds picked up, according to the Copper River Dock Talk blog, which is affiliated with the Copper River/Prince William Sound Marketing Association.
Marketing is essential to the fishery's success, and help Copper River kings fetch a high price. The first salmon of the season may cost restaurants as much as $50 a pound, the Los Angeles Times reported.
Last year, the season began one day later, on May 17. And in 2012, the sockeye salmon harvested during the Copper River District gillnet fishery totaled 1.9 million fish, more than one-and-a-half times the previous 10-year average of 1.2 million sockeye salmon, according to the Alaska Department of Fish and Game. While the red run boomed, the king return was awful. Just 12,000 of the big fish were harvested, not even half the 10-year average of 28,000.
During last year's first two 12-hour openers, Copper River fishermen harvested 373,959 sockeye salmon and 3,339 kings, according to Fish and Game.
And this year, Fish and Game expects 1.8 million salmon to return to the Copper River.
The river's salmon are harvested using gillnets, a common salmon-harvesting method in Alaska. Gillnetting involves laying a net of up to 1,800 feet in the water, creating a wall of sorts in front of the fish. Reds and kings are ensnared in the mesh, the size of which is regulated to reduce unintentional catches.
It's grueling work, but seafood connoisseurs in Anchorage and the Lower 48 shell out big bucks for early-season Copper River salmon entrees, and seafood markets take advance orders from customers who want them at any price.
Simon and Seafort's stocking up
Simon and Seafort's Saloon & Grill in Anchorage, Alaska's largest city, will have the Copper River salmon entrees Friday morning. And once they're in the door, the fish fly off the grills and onto patrons' tables. The restaurant is purchasing 140 pounds of salmon, which will last the restaurant about three days. Between 40 pounds and 60 pounds of salmon sells each night, said sous chef David Taylor. That's a lot of business, some 150 portions, he said.
The dishes including Copper River salmon weren't decided as of Thursday afternoon, but the back-to-basics "simply grilled" dish will be available. The salmon is grilled in olive oil with kosher salt and pepper, with roasted fingerlings and lemon vinaigrette-tossed asparagus. Customers pay up to $35 a meal, Taylor said.
Foodies flock to Simon & Seafort's because of the fishes' oil content, word-of-mouth popularity and nationwide hype, he said.
The nutritional benefits of salmon are widely recognized. A 3.5-once filet of wild Alaska salmon contains more vitamin D than a glass of milk — and plenty of omega 3 fatty acids, too. The fats give the sockeyes' their tender texture, and they likely benefit consumers' health in various ways, such as improving heart health and reducing the chance of developing several degenerative conditions.