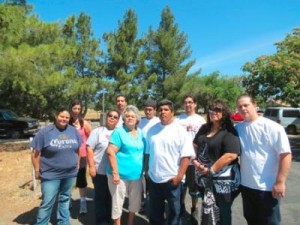 The Tyme Maidu Tribe of California is preparing to remove more than 70 people from the rolls, according to news reports.
By MARY WESTON-Staff Writer
chicoer.com
Posted:   05/22/2013
OROVILLE — It's the same story heard across California in Indian gaming country — family against family with complex claims about the blood lineage of tribal members. Blood lineage determines who gets to be in the tribe and who gets the money.
Last Thursday, about 20 people were arrested after an 11-hour protest with members of the Tyme Maidu Tribe. Protesters say they were being threatened with disenrollments when they barricaded themselves inside Berry Creek Rancheria headquarters.
On Monday, about eight of the protesters and their supporters told their story.
The people who protested said they are descendants of founding members and have the documents to prove it.
They say their lineage goes back to the person given the Berry Creek Rancheria property, a man named Dick Harry.
The protesters were only held for a few hours in a building near juvenile hall, said Charlene Delagarza.
Delagarza, who was arrested, said they were protesting peacefully.
"We were standing for our identity and our heritage," Delagarza said.
Marlin Bone-Cason, 20, said he and some of his relatives were at tribal offices supporting the protesters when they were attacked by angry tribal members who held him down and beat him. He said they cracked a relative in the head with an iron bar around 10:30 a.m. last Thursday.
Robert Wagner, 35, said the tribal members have continually been violent toward his family members, including his pregnant sister.
William Grigsby said he and others went to file charges against the people who have assaulted members of their family, but he doesn't think anyone is listening to their side of the story. He said the tribal members who want to kick out his family have a majority in the tribe.
Grigsby said if he is cut from tribal rolls, he would lose his house where he, his wife and their children live.
Delagarza said the protesters were held for a few hours near Butte County Juvenile Hall last Thursday and released with various charges of trespassing and obstructing police officers.
A vote on the protesters' disenrollment is still being determined.
Delagarza said they had not vandalized the tribal offices as was claimed, which are their offices, too. They had keys to enter the building legally, she said.
Goodie Mix, a spokesperson for the Berry Creek Rancheria Tribal Council, referred questions to a tribal attorney who, she said will be able to talk with the Mercury-Register later this week.
She said the dispute has to do with one family and a question of that family's lineage.
Staff writer Mary Weston can be reached at 533-4415 or mweston@orovillemr.com.