400 confiscated artifacts returned to Navajo
By Shondlin Silversmith, Navajo Times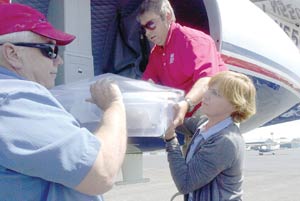 July 9 was a good day for the Navajo Nation. More than 400 artifacts that were stolen from Navajo land were finally returned.
The Navajo Nation coordinated with the U.S Army Corps of Engineers' Omaha, Neb. District to have the stolen artifacts returned.
The individual responsible for the theft is Donald B. Yellow, who stole a total of 710 artifacts, with 425 of those items being from the Navajo Nation.
According to the USACE, the artifacts were found in central South Dakota when Yellow attempted to sell some of them.
"It was a pretty interesting case," Julie Price, USACE program manager, said because she still doesn't know how Yellow was able to transport the items from the Southwest to the middle of South Dakota.
The artifacts were taken from Lukachukai, Ariz., said Ronald Maldonado, supervisory archaeologist for the Navajo Nation Historic Preservation Department.
Maldonado said Yellow was a technician working for the Indian Health Service in Chinle when he found the items and collected them, some from a gravesite in the Chuskas. When he relocated to the Midwest, he allegedly took all his collection with him.
"It's not a lot of stuff, but it belongs to the people, and it feels good to have it back where it belongs," Maldonado said.
The artifacts include four grinding stones, a hand-grinding stone, a wooden weaving batton, five whole and partial pottery bowls, a bundle of cordage/rope, 381 pottery shards, 20 stone pieces, 11 stone tools and a corn cob.
"He took something from a Navajo burial. It's part of the culture that's being stolen, I don't know whose grave they took this from but this was a Navajo burial," Maldonado said, adding he can't believe people would do that to sell the items for profit. "It's good to see it returned back where it belongs, back to Navajo. It's part of the culture, part of the history and people."
During his trial almost two years ago, Yellow pleaded guilty to a misdemeanor violation of the Archaeological Resources Protection Act. He was sentenced on Oct. 11, 2011. The judge ordered that he be fined $618, pay restitution of $4,382, but no jail and no probation.
ARPA is an act set to "to secure, for the present and future benefit of the American people, the protection of archaeological resources and sites which are on public lands and Indian lands," states language in the legislation.
Within the documents provided by Megan Maier, field archaeologist with the USACE Omaha District, "the forfeited artifacts were looted from both USACE-managed lands and Navajo tribal lands. This information was obtained through interviews between the arresting officer and Mr. Yellow. The judge ordered that all southwestern artifacts are to be returned to the Navajo Nation."
"ARPA violations have hefty fines and restitution fees, so with the coordination between multiple agencies hopefully we're making an impact on people that are destroying these types of items," said Price.
"If feels very good to bring something back to its homeland where it's supposed to be," Price added, noting that this is normally a long, complicated process, but since Yellow admitted where he took the items from they were able to start returning the items after making contact with the Navajo Nation over a year ago.
"Everything went smoothly to bring them back to where they were stolen," Price said, adding that it was nice being able to work with a tribe they've never visited before and return the artifacts to their homeland.
"It shows that sometimes the bad guys get caught and good things can come out of bad situations," she said.
"The people that are looting and profiting off these artifacts are slowly learning a lesson," Maier said. "If you are going to be profiting off someone else's culture, you're going to get caught."