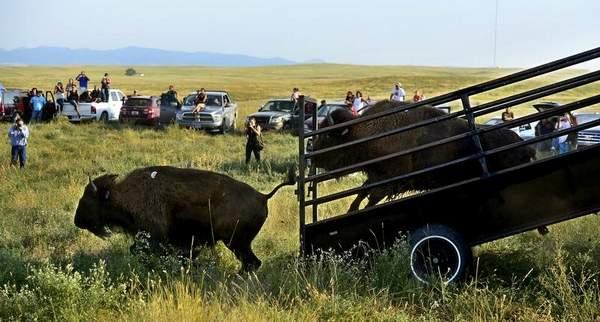 Source: Indian Country Today Media Network
Onlookers hooted, hollered and cheered as bison were coaxed off the trailer and went racing off onto the plain of the Fort Belknap Reservation in Montana. On Thursday, 34 genetically pure animals were set loose. It marks the first time in a century the animals have roamed the area.
"It's a great day for Indians and Indian country," Mark Azure, who heads the tribe's bison program, told the Great Falls Tribune moments after the final two big bulls rumbled out of a trailer and trotted away onto the prairie. The bulls were kept in a trailer separate from the others.
The animals had traveled the 190 miles from the Fort Peck Indian Reservation where Fish, Wildlife and Parks had put 70 of them last year from Yellowstone National Park. Fort Peck already had a herd of some 200 animals, but the Yellowstone bison are the only remaining genetically pure and free ranging wild bison in the United States, the same animals that covered the western plains 200 years ago and numbered in the millions.
RELATED: Pure Strain Bison Returning to Fort Peck
The intention was to move half of the Yellowstone bison to Fort Belknap, but the move was stalled by legal actions. Until the Montana Supreme Court finally ruled that it was legal earlier this summer, paving the way for the bison's return.
"The fact that we're assisting in preserving the genetically pure buffalo out of Yellowstone is significant—the fact that we're ensuring the long-term survival of the species," Mike Fox, tribal councilman, said in a Great Falls Tribune video report about the bison release. "But, on the cultural side… they took care of us and now it's time for us to take care of them."
The bison were released into a 1,000-acre pasture with an 8-foot fence, reported the Tribune, and just one of the animals was not released due to an injury.
Before being released all the animals were tested and found to be disease-free.
Fox told the Tribune that Fort Belknap will manage a herd and use it as seed stock for other places looking to reintroduce bison.
The release meant a lot to those gathered to watch. There was a pipe ceremony to welcome the bison back.
Fox told the Tribune the last few bison disappeared from Fort Belknap around 1910. "It's a homecoming for the animals."
Read more at
http://indiancountrytodaymedianetwork.com/2013/08/23/bison-return-fort-belknap-after-century-151007