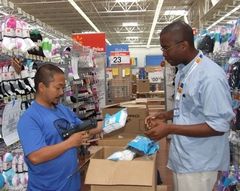 Christina Harper, Herald Business Journal
MARYSVILLE — Walmart staff members insist that there is no fixed date for the grand opening of the new 147,000-square-foot Marysville store. Judging by the huge Halloween section overflowing with scary monsters and black-and-orange garb, shoppers can safely bet that the one-stop shopping experience on the corner of Highways 9 and 528 will be ready to roll back prices in the next few weeks.
"Early fall," said Sonia Smith, manager at the new store.
With 270 full- and part-time workers on board, the store now is being set up. Staff are stocking baby formula is on the shelves, setting up electronics and emptying dozens of cardboard boxes.
Kayla Corley of Marysville will switch to part-time work from full-time once the store opens.
"This is my second day," Corley said.
Corley previously worked at the Tulalip Quil Ceda Village Walmart then took time off to have her children. After an eight-year break, she is back and happy to be employed in sporting goods.
"It's a good company to work for," Corley said. "Good benefits."
Rumors abound that the Tulalip Quil Ceda Village Walmart will close once the Marysville store is up and running. The Quil Ceda store is not closing, Smith said.
The Marysville store took eight months to build and includes a garden center, food, pharmacy and firearms. The store also has a sewing and craft section with bolts of fabric that can be measured and cut.
"Customers are asking for it," Smith said.
Freezers light up as shoppers approach pizza and other frozen food displays adding to Walmart's commitment to energy saving and sustainability, Smith said.
There is no tire and lube section, but inside the store, shoppers can stop for a sandwich at Subway or a trim at the Smart Style hair salon.
Walmart has long been criticized for stocking shelves with goods from China. This long-term relationship could mean that company's recent commitment to "Made In America" goods, which Walmart hopes will bring more manufacturing jobs to the United States, might be met with skepticism.
But Smith is one of many Walmart employees involved with a local vendor program where people who have ideas for locally made goods they want to see on shelves can contact her at the Marysville store. Local goods including "Big Foot" mugs and caps are likely to prove popular with shoppers, Smith said.
For Roderick Brogan, of Everett, and Gwyn Porras, of Marysville, Walmart is a new venture. The two will be working in the store on Walmart.com, checking for website orders and getting them ready for customer pick-up.
As the men sorted socks from boxes and hung them on wire hangers, they each said they were excited about opening day. Whenever that is.
"It might be crazy," Porras said. "But I am looking forward to it."