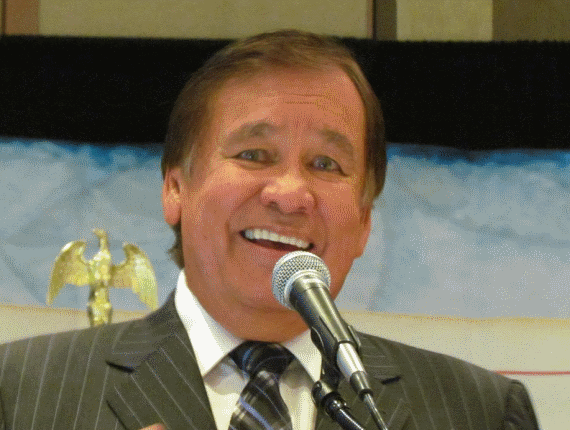 Source: Native News Today, August 29, 2013
TRAVERSE CITY, MICHIGAN – Olympic Gold Medalist and humanitarian warrior, Billy Mills brought people to their feet in standing ovation as he shared his experiences with diabetes and traditional healing in the second day plenary session of the National Indian Health Board's 30th Annual Consumer Conference.
"We are so honored to have Billy here with us today. His words are inspiring and he truly makes everyone feel special. He is someone filled with positive energy. I believe the Creator is using him to help make our people achieve their dreams whether it's running a marathon, living a healthier lifestyle or improving their health through traditional foods and healing,"
said NIHB Chairperson Cathy Abramson.
"Billy is a great advocate for health, not just physically, but spiritually and mentally too. His message today was truly inspirational for those who are suffering from diseases, like diabetes, in hopes that they renew their health."
Mills, Oglala Lakota, who grew up on the reservation has lived with borderline diabetes for most of his life. In his speech today, he told a story about tingling fingers and blurry vision – both symptoms of diabetes as he ran in the Olympic race that won him the gold medal.
"One lap to go. I was pushed. I didn't quit but I could feel myself accept third place. I will let them get 10 yards ahead of me. At this point I could feel the tingling sensation, with my vision coming and going. 150 meters to go and I was nine yards behind, 120 meters and 8.5 meters behind, 100 meters and 8 meters behind. Someone cut into me, but the fourth lane opened up. Lifting my knees, strengthening my stride I took my opportunity. As I went by in the center of my opponent's jersey was an eagle, and I heard my dad, 'if you follow the teachings you will have the wings of an eagle.'
In my mind, I was thinking I will never be this close again.
Then I felt the tape break across my chest. A Japanese official said, 'Who are you?' At that point, I had to find the German and tell him that his eagle helped me win. I found him but there was no eagle on his jersey, just the Olympic rings. It was a simple perception. Perceptions can create us or destroy us. We need to take control of them. Diabetes can take control of us. The traditional virtues and values give us confidence and clarity to take control. Realizing that is the easy part, the hard part is doing it every day,"
Mills said.
The growing epidemic of diabetes represents one of Indian Country's public health challenges. American Indians and Alaska Natives have the highest prevalence of diabetes amongst all US racial and ethnic groups. In response to this epidemic, Congress established the Special Diabetes Program for Indians (SDPI) in 1997, and is up for renewal in 2014.
In an update today on the Tribal Leaders Diabetes Committee, Buford Rolin, Chair of the Committee said that Special Diabetes Program for Indians continues to improve the health of Indian country and has led to significant advances in diabetes treatment, prevention, and education. SDPI programs across Indian country are achieving dramatic reductions in risk factors such as blood pressure, weight, bad cholesterol and blood sugar levels.
"Diabetes is an issue that we care so passionately about. Our collaborative efforts, as tribal leaders and tribal health care professionals, will help keep Indian country on a path to a diabetes-free future. It is important that Congress renew this program past fiscal year 2014. The lives of our people depend on it,"
added Rolin, who is also the Chairman of the Poarch Band of Creek Indians.