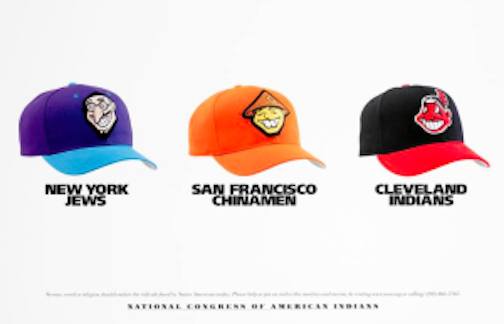 Source: Indian Country Today Media Network
A poster image that went viral because of its controversial references to sports mascots: New York Jews, San Francisco Chinamen and Cleveland Indians, has caused some media confusion.
According to Slate, news media reported that the poster was "new" and was released recently by the National Congress of American Indians because of the Redskins name change controversy.
But an NCAI source told ICTMN that those reports are inaccurate. The poster, shown above, is not a new one. It was originally published and distributed by the NCAI more than a decade ago. The organization said that what's "new" is that people are finally paying attention to the Redskins controversy and have merely "stumbled upon" the image during their reporting.
The image, as seen above, shows that there is a double standard between the stereotypical Native American mascots like the Cleveland Indians and other racial epithets. The quote on the poster reads, "No race, creed or religion should endure the ridicule faced by the Native Americans today."
The NCAI says that they have been working to shed light on offensive and racist sports team mascots for decades. Jacqueline Pata, Executive Director for the NCAI, pointed out that the original poster was developed in the 1990s, but published by the advertising firm Devito/Verdi in 2001.
Pata told Slate magazine, which has denounced the so-called 'R' word that "Those kinds of racial images aren't even acceptable today." In other words, the 'racial equality ad" is not something that the organization would have put out recently because of its tendency to offend and be misconstrued as their response to the current name change controversy.
The organization has instead asked the public to focus on its 29-page report called "Ending the Legacy of Racism in Sports & the Era of Harmful 'Indian' Sports Mascots." ICTMN reported that the report was released last week.
RELATED NCAI Report: Redskins Name Has 'Ugly and Racist Legacy' 
Jefferson Keel, the president of the NCAI, has publicly stated that the word Redskins is a racial slur to the Native American community as is very offensive.
"[That name] originated in the bounty paid for Native body parts and human flesh. It does not honor Native people in any way, and has no place in modern American society," he explained in a news release.
Read more at
http://indiancountrytodaymedianetwork.com/2013/10/14/controversial-sports-mascots-not-new-released-more-decade-ago-ncai-says-151756