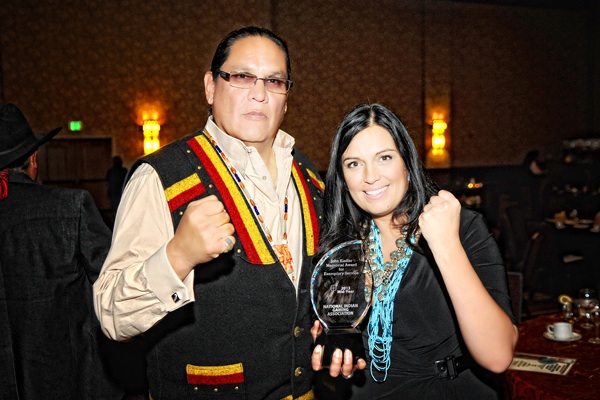 Source: National Indian Gaming Association
Albuquerque, NM (October 30, 2012) – The National Indian Gaming Association honored Tulalip Tribes Vice Chairwoman Deborah Parker at the 15th Annual Sovereignty Awards Banquet on Tuesday with their prestigious John G. Kieffer Memorial Award.
The award recognizes a selfless dedication to advancing the lives of Indian peoples socially and economically, building self-sufficiency through gaming enterprises, and being an advocate for Indian self-determination.
Deborah Parker demonstrated tremendous leadership this year by helping Indian country push through the Violence Against Women Act (VAWA).  VAWA guarantees sweeping changes in the way violent offenders on tribal lands are brought to justice and held accountable for crimes against native women. Vice-Chairwoman Parker became a leading Native voice in support of VAWA and with great courage stepped forward with her own personal story amid heightened Congressional debate about violence against women.
NIGA Chairman Ernie Stevens Jr. said at the banquet, "We honor this leader from the Tulalip Tribes who devoted her life to improving the well being of women, Native women, her people, her community and Indian country. The historical impact of what Deborah Parker has accomplished will be told for many generations as a true woman warrior. Through her work, she has upheld tribal sovereignty. Vice Chairwoman Parker's determination of telling her story has inspired many beyond her tribe and the nation. She has increased awareness and given back a sense of pride to Native women, and we thank her for her devoted service."
Prior to her election as Vice-Chairwoman, Deborah Parker served as a legislative policy analyst in the Office of Governmental Affairs from 2005-2012 for the Tulalip Tribes, where she worked with the State of Washington on behalf of the Tulalip Tribes by providing quality analysis of issues most pertinent to the exercise of sovereignty and tribal governance.
Deborah Parker also served as Director of the Residential Healing School of the Tseil-Waututh Nation in Canada, and in the Treaty Taskforce Office of the Lummi Nation. As a passionate advocate for improved education for tribal members, and a belief in the inherent right of all Native Americans to expect and receive a quality education, one that is free from racial or cultural bias, Deborah is focused on educational reform, which includes developing curriculum that is a true reflection of an Indigenous ethics and knowledge system.
She is a graduate of the University of Washington and holds a Bachelor of Arts degree in American Ethnic Studies and Sociology.
The John G. Kieffer award is presented at NIGA's Mid-Year Conference each year.  The award is named in honor of former Spokane Tribes Vice-Chairman John G. Kieffer, known nationally for his work on Indian gaming issues and was a founding member of the National Indian Gaming Association.
The award is presented annually at the National Indian Gaming Association's Mid-Year Conference, this year hosted by the Sandia Resort and Casino located on the Sandia Pueblo in Albuquerque, New Mexico.