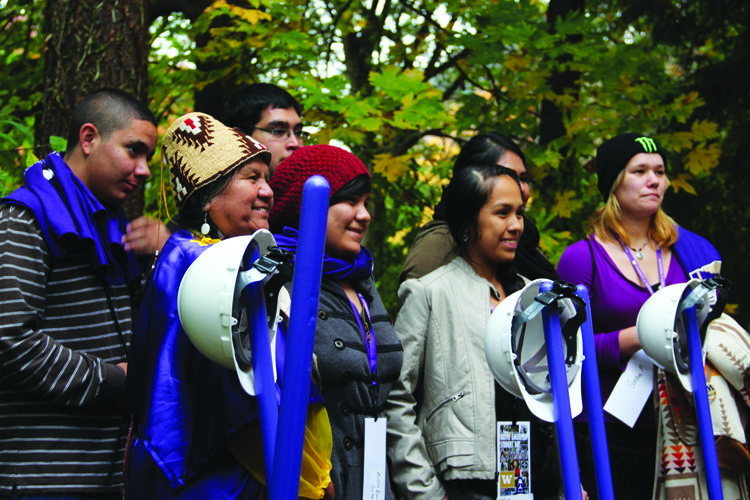 By Andrew Gobin, Tulalip News
SEATTLE – Amidst university buildings with styles ranging from classic to modern, an old style is being resurrected. Wәłәb?altxw, or Intellectual House, is the first permanent longhouse structure to be raised on the University of Washington (UW) campus since its founding in 1861. Native students and faculty celebrated the October 25th groundbreaking of the new longhouse with a feast, hosting many tribal dignitaries from local Indian tribes and Native groups. The new longhouse will be a gathering place for all, and a chance to educate people about the culture of Pacific Northwest tribes.
Charlotte Cote, Professor of American Indian Studies, said,  "As a Native, and I'm Native faculty, you come to places like this, these educational institutions, and you don't see yourself. To have something like this is not only going to be a welcoming space for our students, but a safe place and a comfortable place that will improve their overall educational experience here at UW. It gives me great pride to be a part of this project.
"I want to acknowledge the tribal leaders and elders we have with us today," Cote continued "I think it is important to note that, collectively, they funded a great deal of this first phase of a two-phase project."
Forty years in the planning, the longhouse project survived budget cuts and plan changes that prevented the project from moving forward. Funding from local tribes, over the last 5 years, provided the final push to make this dream a reality.
The longhouse design remains traditional with a modern take. It is a two-building concept, in the Coast Salish style, to honor the tribes that remain in the area, though all Native students should feel welcome. The name of the project changed many times, finally returning to its original, Wәłәb?altxw, so named by Vi Hilbert, a member of the Upper Skagit tribe who made it her life's work to preserve Salish language and culture. The late Hilbert's contributions to the university, as well as Puget Sound tribes' efforts on language preservation, will live on and be honored with this house.
Located near the quad, at the heart of campus, next to Lewis Hall, the current plan schedules the longhouse to be open December of next year.
"The University of Washington has a hundred year standard, meaning anything they build has to last at least 100 years. And then we renovate. So this building will stand in this place for more than 100 years, like the spirits of the ancestors upon whose land it stands. There will always be a place for Native students at the University," said Cote.