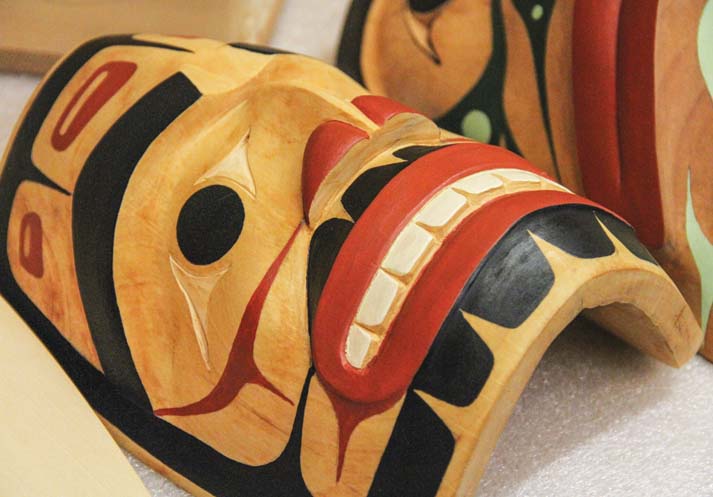 By Brandi N. Montreuil, Tulalip News

TULALIP – The Hibulb Cultural Center & Natural History Preserve will be featuring a variety of works by Tulalip artists in a new exhibit, Coast Salish Inheritance: Celebrating Artistic Innovation.
Opening November 16 and running through May 2014, the exhibit will feature a unique variety of traditional and contemporary art from Tulalip artists.
A collaborative effort between museum staff and Tulalip artists during the museum's summer exhibit, Ramp if Up! Skateboarding Culture in Native America was the inspiration behind this exhibit.
"Our goal is to showcase the artists and talents we have right here," said museum curator of collections, Tessa Campbell.
Works of art in a variety of mediums will be featured. Traditional pieces include cedar carving and weaving, sculpture, beadwork, and dream catcher weaving. Contemporary art will include mixed media, photography, painting, drawing, and musical composition.
Featured artists include Frank Madison, Tryone Patkoski, Steven Madison, Mike Dunn, Sr. Aaron Jones, Marie Moses, Michelle Myles, Judy Gobin, Ty Juvinel, Herman Williams, Sr. Kaiser Moses, Charlotte Williams, Shannon Edwards Pablo, David Spencer, Sr. Derek Jones, Virginia Jones, James Madison, and Katrina Lane and many more.
"Every artist is different, so in this display we wanted to showcase the unique variety of traditional Coast Salish art and modern abstract contemporary art that our artists are creating. This is a gallery of our artists, for our artists," said museum public relations coordinator, Mytyl Hernandez.
For more information on the exhibit, please contact Tessa Campbell at 360-716-2646 or tcampbell@tulaliptribes-nsn.gov, or Mytyl Hernandez at 360-716-2650 mhernandez@tulaliptribes-nsn.gov.