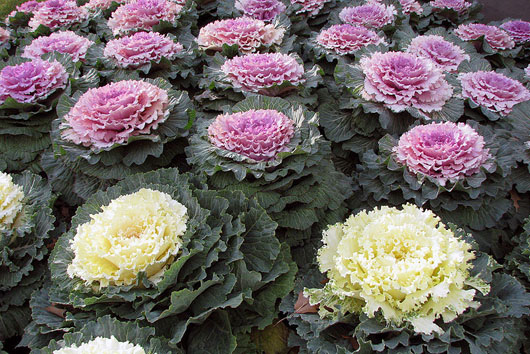 By Polly Keary, Editor, The Monroe Monitor
With leaves off the trees and gardens dormant, it might not seem like the time to plant anything.
But nothing could be further from the truth.
An array of packets of bulbs fills a large display at Pine Creek Nursery. Now is the time to get bulbs in the ground for a colorful early spring garden.
Photo by Polly Keary
In fact, to ensure a beautiful and healthy display in your yard next spring, or to keep your yard as lively as possible through the winter, head to local nurseries and pick up shrubs, trees and bulbs and get them in the ground.
"It's the number one time to plant, because you are getting them in the ground where they get rained on all winter," said Gwen Sayers at Pine Creek Nursery in Monroe, which has a wide variety of shrubs on the premises right now. "They don't get stressed by heat, and they get all winter and spring to get established and get roots."
Among the shrubs that are good to plant right now are evergreens, cypress, Japanese holly, juniper, cedar and weeping evergreens.
Also, flowering kale is actually at its brightest and most vivid in the winter months.
"Kale does great," said Sayers. "It's ornamental. They don't grow a lot in spring and summer. They develop their color from the cold."
Just because it's winter doesn't mean that you can't have container gardens. In fact, they can do a lot to liven up patios and corners in the colder months.
"That's something we love to do is do planters with evergreen and things like kale," said Sayers. "A lot of that stuff will go into the summer, because it's perennial."
In the summer, you can plant annual flowers around a central perennial, and the perennial will still be there through the winter.
Another plant that is nice in winter container gardens, as it's not hardy enough to be in the ground through a cold winter, is lemon cypress, a bright green-gold shrub that forms into low bushes.
Also right now is the time to plant your bulbs for early spring displays.
Garden stores everywhere are stocked up on tulips, crocus, hyacinth, daffodils and other bulbs right now, and perusing the colorful aisles planning next year's garden-scape can be a lot of fun on a rainy afternoon.