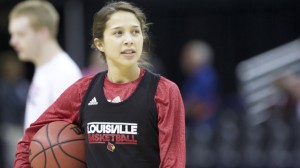 Native News Online, December 4, 2013
LOUISVILLE – Louisville women's basketball junior guard Jude Schimmel was nominated for the Women's Basketball Coaches Association Allstate Good Works Team, announced on Tuesday.
Schimmel is a tribal member of the Confederated Tribe of Umatilla Indians, based in Pendleton, Oregon.
The award recognizes a select group of college basketball student-athletes who have made significant contributions to the greater good of their communities through volunteerism and civic service. In its second year, the Allstate WBCA and NABC Good Works Teams® honor players at all levels of college basketball who represent the sport's finest in the areas of leadership and charitable achievements amongst their peers. The student-athletes nominated for this prestigious award embody the true spirit of teamwork and giving back.
From the 84 WBCA nominees and 118 NABC nominees submitted by coaches and sports information directors across the nation on behalf of their schools, special voting panels will select two 10-member teams comprised of five student-athletes from the NCAA® Division I level and five student-athletes from NCAA® Divisions II, III and the NAIA. The final roster of 20 award recipients will be unveiled in February.
The 2014 nominees uphold impressive service resumes detailing unique and inspiring stories of servitude. From volunteering with sick and underprivileged children to lobbying state legislature for new laws that could help save lives, this exceptional group of young men and women demonstrate the positive impact student-athletes can have on and off the court.
Schimmel has been a leader on the basketball court and an active member in the community as well as a role model in the American Indian community. When she began playing at Louisville, Schimmel made occasional speaking appearances at reservations and conferences around the country. After the Cardinals' run to the 2013 national championship game, Schimmel traveled to speak at 17 Indian reservations in nine states, shaking hands, taking pictures and delivering an encouraging message to American Indian populations.
"When Native Americans come to our games, they are like, `Our kids look up to you. You are the biggest inspiration'," said Schimmel. "It means a lot to us. We're just trying to do better and be better not only for us but because we want other Native Americans to know they can do it, too."
Schimmel has become one of the most reliable ball handlers, scorers and defenders for Louisville this year. She also won the Elite 89 academic award last season as the player with the highest grade-point average (3.737) participating in the Final Four.