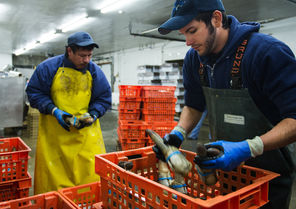 China's suspension of geoduck imports from the West Coast has hit Washington harvesters hard. Tribes, private companies and the state itself are losing hundreds of thousands of dollars.
By Coral Garnick, Seattle Times
On a typical morning, Lief Cofield and his three crew members pile into a 30-foot aluminum boat to harvest hundreds of pounds of geoduck clams.
But for more than two weeks, his boat, the Eagle Scout, has been tied to the dock at Fair Harbor Marina in North Bay, near Shelton — the dive suits stored, the equipment stashed and the crew stuck on land.
"We are supposed to be harvesting 1,500 pounds a day this week," said Cofield, 26, who is a dive supervisor at Taylor Shellfish Farms in Shelton. "My guys make $15 an hour plus a 10- to 15-cent per-pound bonus on what they personally harvest; and that can really add up."
His crew is not alone. Since Dec. 3, when seafood inspectors in China suspended imports of West Coast geoduck and other bivalve shellfish such as oysters after reporting high levels of algae toxin or arsenic, harvesters along tribal, state and private shorelines have all been hit.
Altogether, the state produces more than 6 million pounds of geoduck clams annually, and last year almost 90 percent was sold to China.
But now, tribal harvesting companies have laid off divers. Geoduck farms have reduced hours for many workers, and wild-geoduck divers all around Puget Sound are out of work.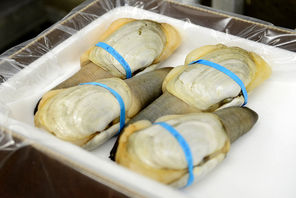 Meanwhile, the state is missing out on well over $1 million in revenue from the wild harvest. Washington auctions off rights to harvest geoduck on state aquatic lands; this year those rights were worth about $12 a pound.
"We only fished two days last week," said Cendtary Xeno, a geoduck diver for Global Pacific Seafood. "Everyone has bills to pay and families, and lack of work at the holiday time is pretty bad."
Currently, state and federal agencies are waiting to get more information from Chinese officials, and the Department of Health is preparing to start testing arsenic levels on Thursday.
While the investigation is ongoing, geoduck harvesting in Washington is essentially at a standstill.
According to the Washington Department of Natural Resources, an average of 50,000 pounds of wild geoduck are harvested weekly by divers such as Xeno, with Global Pacific.
With almost 1.1 million pounds of state-regulated wild geoduck left to harvest before March 31, the department estimates the current ban represents not only lost income for fishermen, but also $600,000 per week in lost revenue for the state.
Some tribes and companies have already completed their harvests for the year. But those who have not are missing out on millions of dollars' worth of product that would have been shipped to China.
Suquamish Seafoods, run by that tribe, exports almost all of its geoduck to China, and has laid off all 24 of its divers.
The tribe still had 140,000 pounds of geoduck to harvest before the end of the season in March. If the ban is not lifted soon, divers may not be able to finish harvesting, said Tony Forsman, the company's general manager.
The tribe was selling geoduck for $11.50 a pound before the ban took effect, so the Suquamish Tribe could potentially lose out on more than $1.6 million worth of clams.
Divers receive 40 percent of the take for the geoduck they harvest, meaning each diver is at a risk of losing $67,000 — a large portion of their annual income — right before the holiday season, said George Hill, the harvest coordinator and a diver for Suquamish Seafoods.
"You can't think about Christmas when you have to think of next month's bills," Hill said. "We have bills to pay, and not knowing when we are going to go back to work is very hard on us."
To make up for the lost income, the 47-year-old Hill, who has five children, may look for a diving job harvesting sea cucumber. He hopes the ban can be lifted in time for the tribe to finish harvesting this year's quota.
Seattle Shellfish, a company that farms only geoduck and ships exclusively to China, has shifted its 18 divers to other duties, such as geoduck farm maintenance, since they are not currently harvesting the giant clam.
Taylor Shellfish Farms, one of the largest geoduck providers in the state, ships only half of its harvested geoduck to China, which means there is still some work to be done. However, many employees have been moved to half-time and have been given other tasks, company spokesman Bill Dewey said.
Both farms say they will have to consider layoffs if the ban continues much longer.
At the Taylor plant in Shelton, holding tanks are usually packed full of thousands of pounds of live, freshly harvested geoduck. Starting at 11 a.m. each day, the four-man geoduck team, led by Gustavo Hernandez, has to work quickly to sort and pack all the clams before the first truck leaves for the airport at 4 p.m.
Last Thursday, the men raised the lid on the holding tank and stared down at the measly 1,000 pounds of geoduck, stacked in orange crates, that had been beach-harvested the night before. They didn't start packing and sorting until 2 p.m. and were in no hurry.
"This is usually the busiest time of year," said Hernandez, 35. "But without exporting to China, we just don't have a lot to do."
Geoducks first caught on as a banquet delicacy in Hong Kong, and the clams' appeal has spread to other parts of China.
Geoduck harvesters, the state Department of Health, the Food and Drug Administration (FDA) and the National Oceanic and Atmospheric Administration (NOAA) all have been scrambling to understand the suspension.
Fish inspectors in China identified high levels of arsenic and a toxin that causes paralytic shellfish poisoning, or PSP, in two shipments of geoduck — one from Washington and one from Alaska.
Friday, state and tribal officials closed the 135-acre geoduck harvesting area outside Federal Way where the Washington geoduck shipment originated.
The 385-pound shipment was harvested by the Puyallup Tribe in Poverty Bay, on what the Department of Natural Resources calls the Redondo Tract.
PSP is a biotoxin produced by algae that shellfish eat. In humans, high levels of either PSP or arsenic can lead to severe illness or even death.
However, testing in October by the Department of Health found PSP levels in the Redondo Tract well below internationally accepted limits.
Because there is no federal safety standard in place for arsenic, the last arsenic testing done in the area was in 2007. Levels found at that time were not of concern for human health, according to an agency spokesman.
The Department of Health originally had focused on investigating PSP levels, but last week the agency learned the Washington shipment was blocked because of arsenic, while PSP was the issue with the shipment from Alaska.
"The last thing I would want to have happen is for someone to get sick," said Cofield, from Taylor Shellfish. "But closing down the whole West Coast because of two shipments seems a little heavy-handed."
The Alaska shipment of geoduck originated from outside Ketchikan, and that state has also provided federal agencies with detailed reports, said Jerry Borchert, the marine biotoxin coordinator with the Washington Department of Health shellfish program.
Borchert said China uses a different unit of measure when reporting PSPs, and officials here don't know how Chinese inspectors tested the arsenic levels. "So we don't know how they came up with the level they have reported," Borchert said.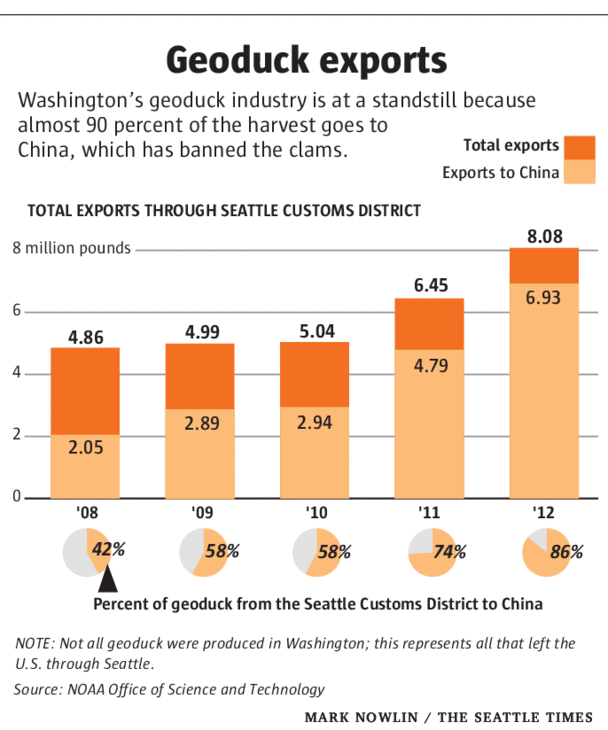 "We are full of questions and are looking for some answers," he said. "We are waiting for more details."
NOAA, the federal agency working directly with the Chinese, sent a report with the health department's PSP findings to Chinese officials, along with questions about how the toxicity levels were measured. Federal officials also are awaiting more information from China, and it is still unknown when the ban might be lifted.
Information from The Seattle Times archive was used in this report.
Coral Garnick: 206-464-2422 or cgarnick@seattletimes.com. On Twitter @coralgarnick