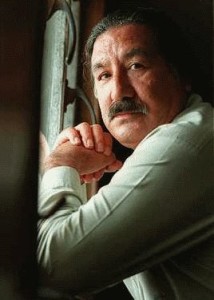 Levi Rickert, Native News Online
COLEMAN, FLORIDA –  On Friday January 24, 2014, United Nations Special Rapporteur, Professor James Anaya visited United States Penitentiary Coleman 1 in Florida, to meet with American Indian political prisoner Leonard Peltier.  Professor Anaya was accompanied by Leonard "Lenny " Foster, member of the Board of Directors of the International Indian Treaty Council (IITC), Supervisor of the Navajo Nations Correction Project, and Spiritual Advisor to Mr. Peltier for nearly 30 years.
The historic, nearly four hour meeting began around 9 am. While the discussion Friday morning was meant to focus on executive clemency for Leonard Peltier, the conversation touched on many subjects, as Mr. Peltier was eager to hear the Special Rapporteur's perspective on the worldwide condition of indigenous peoples.
In a trial that is widely recognized as a miscarriage of justice, Leonard Peltier was convicted in 1977, in connection with a shootout with US Government forces, where two Federal Bureau of Investigation agents and one young Indian man lost their lives. Every piece of evidence to convict Mr. Peltier has been since proven false.
Professor Anaya is currently serving his second term as the United Nations Special Rapporteur on the Rights of Indigenous People. In September 2012, following a series of consultation sessions with Indigenous Peoples throughout the United States, the Special Rapporteur produced a  " Country Report  on the Situation of Indigenous Peoples In the United States of America" (A/HRC/21/47/Ad)].
In the report, Professor Anaya called for freedom for Leonard Peltier, and stated: "Pleas for presidential consideration of clemency…have not borne fruit. This further depletes the already diminished faith in the criminal justice system felt by many indigenous peoples…"
The effort to engage the United Nations Special Rapporteur in the struggle to address justice for Mr. Peltier began in 2008, during a discussion between Lenny Foster and Alberto Salomando, former attorney for the IITC. Following the visit Lenny Foster stated: 'The visit today by U.N. Special Rapporteur James Anaya to Leonard Peltier in prison is very significant and historic for us.  We thank him for working..to make this possible. This will support efforts for Executive Clemency for Leonard Peltier and promote reconciliation and justice in this case."
Leonard Peltier said Friday "if the Constitutional violations that took place in my trial are allowed to stand, it will set precedence for future trials, and jeopardize the freedom and constitutional rights of all Americans."
Also in attendance of the meeting Friday were:  David Hill, Director of the International Leonard Peltier Defense Committee (ILPDC), Peter Clark, ILPDC Chapter Coordinator and Unoccupyabq.org member.
David Hill stated "that Americans can no longer afford to tolerate this miscarriage of justice and we shall make every effort to bring these judicial violations to the attention of all Americans, as well as internationally."