A kindergarten Ojibwe immersion class, where students spend most of their day learning in the language native to the region, could be an option for a Duluth elementary school next year.
By: Jana Hollingsworth, Duluth News Tribune Feb 24, 2014
A kindergarten Ojibwe immersion class, where students spend most of their day learning in the language native to the region, could be an option for a Duluth elementary school next year.
The Duluth School Board will vote on adding such a program Tuesday.
"It's a big move," said Edye Howes, coordinator of the American Indian education program for the Duluth school district. "Historically, the Duluth American Indian community hasn't had much trust in Duluth public schools. This would be a statement: Look what we're willing to do to start strengthening and building a relationship."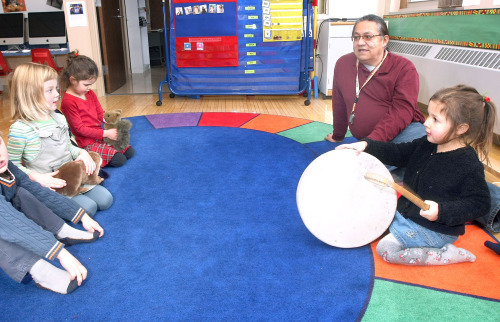 Immersion programs, such as those for Spanish, have grown in popularity nationwide for their ability to develop cognitive skills, especially at a young age. Such programs also help to broaden a student's worldview and the ability to think from another perspective, Howes said.
For a few years, the Duluth district has partnered with the University of Minnesota Duluth and its Enweyang Ojibwe Language Nest for young children, currently teaching those up to pre-K. Gordon Jourdain teaches that class, which also serves as a lab for students at UMD who plan to teach Ojibwe.
Immersion programs do more in helping with the achievement gap than anything else, Jourdain said.
"They are very successful in the Duluth public school system as a result of being exposed to multiple languages," he said, noting that he hears from former parents on how past students are doing. "It's the opportune time for brain development and language acquisition."
At a recent School Board meeting, Superintendent Bill Gronseth said the program would be a good way to begin improving the American Indian graduation rate.
"Knowing that it's one of the lowest of the subgroups," he said, "it would go a long way to improving our future."
Jourdain, from Ontario, spoke Ojibwe before he spoke English. He also has an Ojibwe-fluent classroom assistant so students can hear regular conversation.
He teaches through a different lens, he said, taking the kids outside to demonstrate words.
"It's a good way for language development," he said. "If you're talking about snow and it's falling on their nose, they will live what it is; they are living the language. I am not teaching about it."
While Duluth has not yet proposed a school for the class, plans are for between 15 and 20 students. The district would hire either a licensed teacher who speaks Ojibwe fluently or one who speaks it as a first language. The plan would include an assistant who speaks the language and comes in regularly. The proposed program eventually would consist of one class for each grade, adding one grade per year. For the first year, the cost would be roughly $153,000, with most of the money paying for the cost of the teacher — which already is allocated to the school — and the assistant. The rest would come out of state integration funds.
Aside from time with specialists such as a physical education teacher, the class would be taught entirely in Ojibwe.
Because the Ojibwe language doesn't include numerals, numbers would be spelled out with words for the subject of math, for example.
Lydia Shinkle sends her daughter to the UMD language nest. She said she'd drive her wherever they place a class if it's approved, and she knows of other parents who would.
"She is part Native American, and it is important to me that she has that link to her culture," Shinkle said of her daughter, Natalia. "It's something you can't find anywhere else … We're losing the language every day, and it's important to preserve it for the next generation so she can teach others around her."
Finding one teacher won't be difficult, said William Howes, coordinator of the Duluth school district's Office of Education Equity. Between UMD and the College of St. Scholastica, and beyond the Twin Ports, many programs are committed to producing licensed Ojibwe teachers, he said. Finding six might not be as easy, but with a staggered approach there would be time, he said.
"Much has been done and has happened to indigenous languages, but they are still alive and viable," William Howes said.
Places such as federal boarding schools forced generations of American Indians to assimilate to white culture and prevented them from speaking their native languages.
"Everything within Ojibwe culture and tradition is within our language, just like any culture," William Howes said. "As we begin immersion, we want to begin with the language spoken here first."