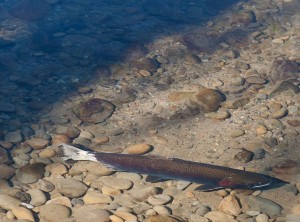 Apr 7th, 2014
Both hatchery and wild fish are needed for steelhead and salmon recovery in western Washington, says Billy Frank Jr., chairman of the Northwest Indian Fisheries Commission.
"There's no way we can do it without both," said Frank, responding to a lawsuit against the state of Washington by a group claiming that state hatchery steelhead releases are undermining recovery of ESA-listed wild steelhead, chinook and bull trout in Puget Sound.
The Wild Fish Conservancy wants the program halted and is seeking an injunction to stop the Washington Department of Fish and Wildlife from releasing nearly 1 million hatchery steelhead this spring. WDFW has said it will not release the fish unless or until it can reach an agreement with the group.
Science guides the operation of hatcheries in western Washington, Frank said. Hatcheries are carefully managed to protect the genetic health of wild fish. Without hatcheries and the fish they produce, there would be no fishing at all.
"It's important to remember why we have hatcheries in the first place," he said. "They were built to make up for lost natural steelhead and salmon production that has been nearly destroyed by habitat loss and damage. They have been an important part of salmon management in Washington for more than 100 years."
Indian and non-Indian fishermen, their families, businesses and many others depend on the salmon and steelhead that hatcheries provide, Frank said. Because wild fish populations have continued to decline along with their habitat, hatcheries are critical to providing fish for harvest.
Hatchery fish are also essential to fulfilling tribal treaty-reserved fishing rights, which depend on fish being available for harvest. Properly managed hatcheries can be a valuable tool for wild fish restoration by supplementing natural spawning and increasing natural-origin fish abundance, Frank said.
"But we must also stop the loss and damage of steelhead and salmon habitat in our watersheds," Frank said. "The reasons that hatcheries were built in the first place have not changed, and have only gotten worse. We are losing salmon habitat faster than it can be restored and protected, and that trend is not improving."
That is why lawsuits like the one filed by the Wild Fish Conservancy are so disappointing, Frank said.
Once a hatchery salmon is released, it has the same habitat needs as wild fish. Those needs include clean, cold water; access to and from the sea; and good spawning habitat.
"Lost and damaged habitat, not hatcheries or harvest, is what's driving wild steelhead and salmon populations toward extinction," Frank said. "The focus needs to be on fixing and protecting habitat, not fighting over hatcheries and the fish they produce. Climate change and exploding population growth are only making our habitat problems worse, which in turn makes hatcheries even more important for wild fish and all of us."
If the state ultimately does not release the fish, both Indian and non-Indian fishermen and local economies will feel the effects quickly and for a long time, Frank said. "The tribes and state learned a long time ago that our money, time and energy are better spent working together for the benefit of the resource than fighting each other in court. We need cooperation, not litigation, to achieve salmon and steelhead recovery."
For more information: Tony Meyer, NWIFC, (360-438-1180) tmeyer@nwifc.org; or Emmett O'Connell (360- 438-1180) eoconnell@nwifc.org.