The Associated Press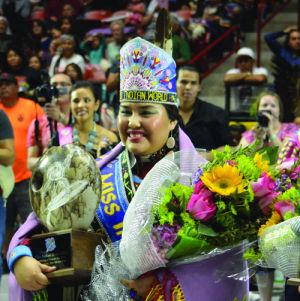 ALBUQUERQUE, N.M. (AP) — An Idaho State University student has earned the title of Miss Indian World.
Pageant officials say 21-year-old Taylor Thomas was crowned Saturday night at the 31st Annual Gathering of Nations at the University of New Mexico Arena in Albuquerque.
Thomas, a member of the Shoshone Bannock tribe, was chosen among 23 Native American women from different tribes and traditions.
As Miss Indian World, Thomas will visit native and indigenous communities around the world and serve as a cultural goodwill ambassador for a year.
The crowning closed three days of festivities at what is considered North America's largest powwow. The event draws hundreds of competitive dancers and tens of thousands of spectators from across the U.S. and parts of Canada and Mexico.
Twenty-three-year-old Megan Leary, of Napaimute, Alaska, was first runner-up.