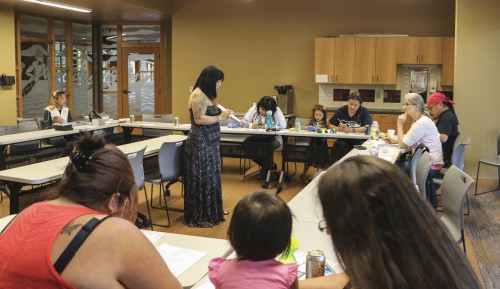 A family approach to Lushootseed language
By Brandi N. Montreuil, Tulalip News
TULALIP – Tulalip Lushootseed Family Night began their summer series on Wednesday, May 7.  The informal classes, held weekly until July at the Hibulb Cultural Center are designed to encourage daily Lushootseed use in the home via basic words or phrases, such as "good morning, how are you" and "clean your room."
Curriculum is based on participant requests and sections of the Lushootseed Language 101 college course through Northwest Indian College.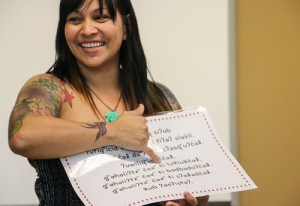 "Anyone is welcome to attend whether Tulalip tribal member or not. There is no age limit and although we call it Family Night, anyone is welcome to attend," said Natosha Gobin, Tulalip Lushootseed teacher.
Through the use of crafts, storytelling, songs and games, kids are able to learn the same curriculum as the adult participants, this helps encourage fluency in the household.
"The classes are laid back and intended to empower the speakers within ourselves," said Gobin, who stresses that participants needn't fear mispronunciation or fear of learning the language. "Our goal is to find the best ways to bring Lushootseed into the home."
Lushootseed Family Nights are held Wednesday's at 5:00 p.m. to 7:00 p.m. in the Hibulb Cultural Center classrooms. Materials and lessons are free of cost, and dinner is provided.
For more information on the Family Nights or the Lushootseed language, please contact Natosha Gobin at 360-716-4499 or ngobin@tulaliptribes-nsn.gov, or visit the website www.tulaliplushootseed.com. You can also download the Lushootseed Phrases app on Android devices on the Play Store.
Brandi N. Montreuil: 360-913-5402; bmontreuil@tulaliptribes-nsn.gov