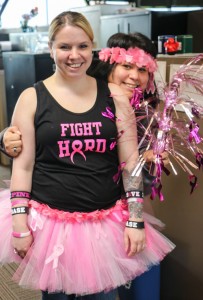 By Brandi N. Montreuil, Tulalip News
TULALIP – Donning pink with a purpose! Tulalip citizen Tawyna Cortez, and teammate Trisha Montero-Higginbotham, will participate in the Susan G. Komen 3-Day event, Walk for a Cure.
On September 19-21 they will tackle 60 miles in 3 days. Their walk begins at the Seattle Center, finishing at the Memorial Stadium at Seattle Center. Their motivation? Women close to their heart.
"I joined this adventure for two women that touched my life," said Cortez, who is currently fundraising for the three-day walk. "My high school friend was diagnosed [with breast cancer] right after graduation. She didn't survive her battle. The other is my grandmother who is a survivor of 17 years. She is an amazing woman to me. These two women are the reason I walk and hope to find a cure. Because no child should have to be raised without a mother, grandmother, aunt, friend, or family member that has been taken by this horrible disease. So I walk for those that are not with us or unable to walk."
Montero-Higginbotham, whose family history includes cancer in a variety of forms, is walking in support of her aunts.
"In January I decided I would take this journey in memory of my Auntie Sylvia Montero. She was an advocate, patient educator and role model for Alaska Natives and Native Americans living with cancer. She lost her battle with the disease in October 2003.  In February of this year I found out my Auntie Pat Antioquia, who has been a survivor, has had her cancer return. There isn't a reason I shouldn't walk this walk, so I signed up," explains Montero-Higginbotham in her Susan G. Komen fundraising page.
Cortez and Montero-Higginbotham, are joined by Montero-Higginbotham's husband Rob, are each trying to raise $2,300 for a total of $6,900, for the Kindred Spirits team they will be walking with. So far they are halfway there, but are still in need of donations. The money raised will go to support breast cancer research, training, and education outreach.
Last year $3.3 million was raised at the Seattle Komen 3-day walk. According to BreastCancer.org in 2013, an estimated 232,340 new cases of invasive breast cancer were expected to be diagnosed in women in the U.S., along with 64,640 new cases of non-invasive (in situ) breast cancer.
So far Kindred Spirits have put in 70 miles of training with an average of 6.5 to 8.5 miles walked a day. By the time of the 3-day walk the team will have walked an approximate 580 training miles.
You can donate to Cortez and Montero-Higginbotham by going to their individual pages at www.the3day.org. To find their pages, click on the "Donate Today" tab and search Tawnya Cortez or Trisha Montero-Higginbotham.
Brandi N. Montreuil: 360-913-5402; bmontreuil@tulaliptribes-nsn.gov