Matika Wilbur's 'Project 562' kicks off at Tacoma Art Museum this weekend
By Rosemary Ponnekanti, The News Tribune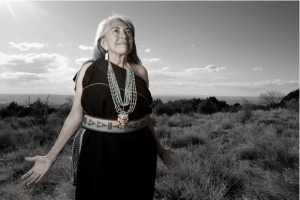 When Northwest artist Matika Wilbur was at an airport with her 9-year-old nephew, they happened upon a display case of Swinomish tribal art — their own people. Except the label explained, "The Swinomish were a hunter-gatherer tribe who lived in the Puget Sound region …"
Wilbur's nephew turned to her, and asked sadly, "Aunty, why does it say 'we were,' not 'we are?' "
The answer to that question opens at the Tacoma Art Museum on Saturday. Wilbur, a Swinomish/Tulalip photographer, is unveiling the first part of her "Project 562," a multiyear, multimedia odyssey to document every recognized Native American tribe in the United States — to show, in fact, the "we are."
Supported by the museum from the beginning, the project's nearly halfway done, with 200 out of (now) 566 tribes documented in startling silver gelatin portraits, audio interviews and short films. Around 40 of the portraits will be on view at Saturday's opening, along with Wilbur herself to give a talk on her journey to turn around the imagery of contemporary Native America.
"When you Google 'African American' you get beautiful images of people doing what we do now — kids on swings, businesspeople in suits," says Wilbur. "If you Google 'Latino' or 'Asian American', the same. But for Native American, what you'll find is images of previous centuries."
That kind of negative, stereotypical imagery, Wilbur adds, affects self-esteem, worsening problems in many tribes of alcohol addiction, drug use and teen suicide.
"As a teacher, I lost a lot of students to suicide," she says. "I argue that image does affect our consciousness, our children. It's been proven in studies."
Four years ago, Wilbur decided to change that imagery.
"I'm hopeful, I believe things can change," she says. "I thought, what if things could change for young people? What if I could be a part of that? That was my dream, my goal."
Planning, applying for grants, doing a Kickstarter campaign, contacting tribes and finally driving around the country, she has covered 60,000 miles since November 2012, spending around five days in each place, taking audio and photographic portraits of at least three men and three women in each tribe, thus the name "Project 562." Along the way she's raised national media awareness through NBC, NPR, BBC, The New York Times, The Huffington Post, even Buzzfeed.com.
"What I'm attempting to do is to offer a contemporary image that showcases our heroes," says Wilbur.
And much of the credit goes to the Tacoma Art Museum. With a budget of $500,000 to pay for travel and costs for a book, films and educational curriculum, Wilbur "desperately needed a big institution to put their name on the project." Most of the institutions she approached either doubted or laughed at the project — except Tacoma.
"(Senior curator) Rock Hushka was like, 'Let's do it. I'll help you. What do you need?'" Wilbur says. "That's not what museums normally do. They usually borrow your work when it's finished."
Wilbur also points out the museum got on board long before they accepted the enormous Haub collection of Western art, much of which comes from that previous-century perspective on native identity.
And so, this weekend, TAM gets to host the inaugural "Project 562" exhibition through October, before it travels to other venues. (The Haub wing opens shortly afterward.)
"'Project 562' provides ample evidence of the diversity and vibrancy of contemporary Native Americans," says Hushka. "Only a photographer of Wilbur's caliber could capture this with such grace and clarity."
The exhibition will be accompanied by various lectures, as well as being the centerpiece for the museum's annual Native Northwest Community Celebration on May 31. A member reception Saturday night will include hoop dancers from Phoenix; singers from the Swinomish and Tulalip tribes; a blessing from the Puyallup tribe and more.
Wilbur also is collaborating with fashion designer Bethany Yellowtail (Crow Nation) on a "562" fashion line, which the artist hopes will fund the project into the future. The first items are scarves that double as shawls, with design elements (cedar, cracked earth) that tell stories from different tribes.
What speaks loudest in "Project 562," however, are Wilbur's portraits. Shot against desert landscapes, calm Puget Sound waters, city streets or plain walls, they show tough teens, patient elders, cowboys, young women in denim, older women in regalia. And while the background is important — places her subjects felt most tied to — it's reduced to black-and-white, while the people themselves stand out in color.
Spending up to three hours, Wilbur also interviewed her subjects extensively, diving into their deepest dreams and loyalties.
"I asked them where they grew up, why they stayed or left, about their family and what's not in the history books about their people," she says. "Then I talked about more serious things — what does it mean to be a sovereign nation? About assimilation, education, values, wellness, racial stereotypes … and what does it mean to be a member of your community? … That question is important for me, because it grapples with the concept of being 'Indian enough.'"
While Wilbur's work asks big questions and has been described as provocative, Wilbur says what matters most is how it attempts to connect actual living Native American cultures with the rest of Western society, reversing the "historical inaccuracies about Indian identity." It also creates a central location where those cultures have visual representation.
"It's more about the intimacy of the portraits and the stories they convey," she says. "It's also time we allowed our young Native people to see themselves in a positive light. To move beyond poverty porn and give them something hopeful."