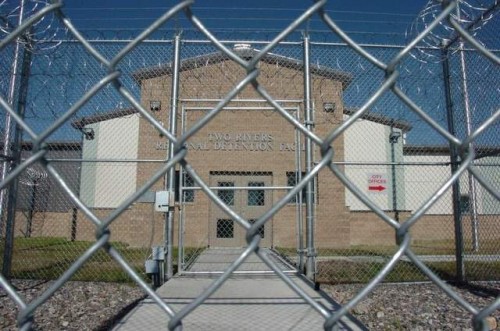 By Matthew Brown, The Associated Press
BILLINGS — A private corrections company from Louisiana is starting to train guards — but still doesn't have any inmates — for a jail in Hardin that has sat vacant since it was built in 2007, company and town officials said Monday.
Steve Afeman with Emerald Correctional Management said a warden and other personnel have been hired and about 30 guards will be training through the week at the 464-bed Two Rivers Detention Facility.
The company intends to solicit inmates from Native American tribes, counties and the U.S. Marshals Service, Afeman said.
No agreements have been reached, and Chief Deputy Rod Ostermiller with the Marshals Service in Billings said he is not aware of any discussions between his agency and the Lafayette, Louisiana-based company.
The $27 million jail rose to notoriety in recent years after its backers failed to get any contracts for inmates, prompting desperate Hardin officials at one to point to offer to take in suspected terrorists held in Guantanamo Bay, Cuba. A California man later duped officials with a grandiose plan to turn the jail into a military training camp.
The jail is owned by Hardin's economic development agency, Two Rivers Authority. Emerald signed an operating contract with the authority on May 6 to run the jail, Two Rivers Chairman Jon Matovich said.
Two Rivers would receive 50 cents per day for every inmate under the terms of the deal, Matovich said.
"Everything is signed, the ball's in (Emerald's) court and they're doing a great job," Matovich said. "Anything that goes on at the facility from now on is Emerald's stuff. As soon as they get their staff trained and get things rolling, I'm sure they will have some inmates."
Afeman said representatives of Emerald planned to meet with leaders of tribes from Wyoming, Montana and the Dakotas beginning Wednesday to gauge their interest.
Afeman said in April that the company had reached a memorandum of understanding with the U.S. Bureau of Indian Affairs in which the agency endorsed the company's plans. But on Monday, Afeman said there was no agreement with the federal agency and that Emerald was working directly with the tribes.
A former employee of the Wyoming Department of Corrections was hired as warden, Afeman said. Kenneth Keller spent three decades with the state agency and in 2008 was appointed warden of the Wyoming Honor Farm, a minimum security facility in Riverton for inmates preparing to re-enter society.