By Andrew Gobin, Tulalip News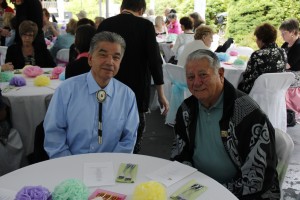 The Marysville Strawberry festival offers much more than a parade and carnival. Every year, junior and senior high school students are selected to participate in Strawberry Court, receiving academic sholarships from the April Friesner Scholarship fund. The royalty luncheon and fashion show is an entertaining way for the community to come together to raise funds.
Royalty past and present are welcome at the event, and many people form the community seek donated clothing from local businesses to show off at the event. This year, Tulalip Chairman Herman Williams Sr. and Vice Chairman Les Parks volunteered in the show. Tulalip elder Jeannie McCoy was present, along with the Tulalip Strawberry King and Queen, Hank and Geraldine Williams. Pauline Nolan, a Tulalip elder who is involved with the strawberry festival every year, also modeled, along with our own Nicole Sieminski.
Check out the photos.