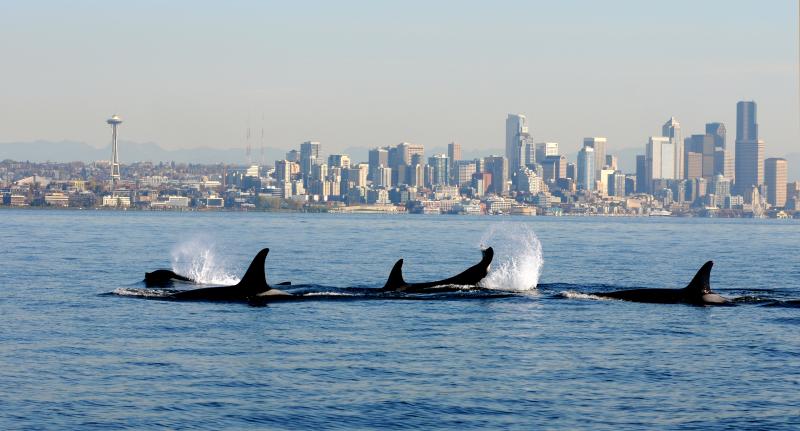 By Bellamy Pailthorp,
KPLU
Following the release of a federal report on the state of endangered orcas, one local researcher says there's one factor that matters more to the whales' wellness than toxins and vessel traffic: fish.
Ken Balcomb, whom many regard as the godfather of whale conservation, is the director of the Center for Whale Research in Friday Harbor. For almost 40 years now, the center has been keeping track of every individual whale in the three pods that make up the southern resident population of the iconic orcas that live in Puget Sound.
Balcomb says among the risk factors outlined in the report summarizing a decade of research, the orcas' food is what matters most. They are very picky eaters, and scientists now know that about 80 percent of their diet consists of chinook salmon, another endangered species. So, if we want to recover orcas, says Balcomb, we need to focus on recovering that specific species of salmon.
"They need food. And that's where the emphasis should be, is on enhancement of the chinook salmon stocks in the Salish Sea and the whole eastern Pacific," he said. "We're just not going to have a predator population without a sufficient food population."
The research also shows the orcas hunt less and call louder when vessels are in the area, and they head to the outer coast during the winter, foraging as far south as central California. Toxins are also a factor in whale mortality, says Balcomb; high levels are found in their blubber.
But he says transient orcas are surviving in growing numbers despite these conditions, because their diet includes seals and porpoises, and they have plenty to eat. The toxins only become a critical factor when the whales are going hungry and living off their fat, triggering the toxins' release, according to Balcomb.