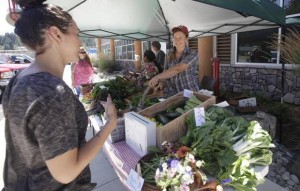 By: Lisa Pemberton, The Olympian
The Nisqually Tribe's Community Garden Program isn't just about food.
It's about youth, elders, health, jobs, culture and community.
The program, which is based at the tribe's 250-acre culture center off Mounts Road near DuPont, produces enough fruits, vegetables, berries, herbs and flowers to support two weekly farm stands for members of the tribe and reservation community.
The farm's crops, grown on about five acres of the land, also are used at community dinners, the elder's program, nutrition classes and other efforts.
"We work with our own people, and we have sovereignty to feed our own people," said garden field technician Grace Ann Byrd. "And we do it with love and prayer."
Production supervisor Carlin Briner said the Nisqually tribe has a long history of community gardens.
About five years ago, it launched the community garden stand program, which is funded by the tribe and offers an array of produce that's free or by donation-only for tribal and community members.
In 2013, the garden program harvested and distributed more than 5,000 pounds of produce to the tribal community, Briner said.
This year, for the first time, the program is producing enough bounty to support two weekly garden stands — one at the farm, and one at the tribal administration building.
"At this point, we aren't selling produce to the wider community, though we may start at some point," Briner said.
On a recent day, the farm stand at the administration building offered several baskets brimming with beets, peas, beans, lettuce, carrots, kale, potatoes and several types of herbs.
Beverly Owens, an executive secretary for the tribe, picked up some kale, bok choy and greens. She said she loves shopping at the stand.
"I know where it's coming from," Owens said. "When you go to the grocery store, you don't."
Briner said the garden program has planted smaller kitchen gardens elsewhere on the reservation, including at the tribe's preschool and daycare.
Every fall, its workers organize a harvest party for the tribal community, featuring cider pressing, foods and gifts.
And throughout the year, the garden workers help lead or organize workshops on canning, cooking, nutrition and traditional medicine making.
Garden field technician Janell Blacketer said one of her favorite recipes is nettle pesto — as in stinging nettles.
"They're so good for you," she said.
The program's goal is to serve as a hub for all of the tribe's programs, Briner said.
"Food is relevant to everything," she added.
Byrd said she enjoys working for the garden program because it's about supporting the tribe's future while helping preserve many of its age-old traditions.
"We always laugh, and joke and have a good time," she said. "They say you never go around food angry, and you're not supposed to work around food in a bad way."
That way, when items are being served from the tribe's garden, "you see the transference of those good times around the people," Byrd added.
Read more here: http://www.theolympian.com/2014/07/16/3229332/nisqually-tribes-garden-program.html?sp=/99/224/&ihp=1#storylink=cpy