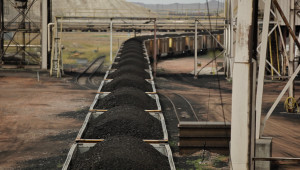 By: Ashley Ahearn, OPB
If it's built, the coal-exporting Gateway Pacific Terminal will create more than two thousand jobs in Whatcom County during construction and several hundred permanent jobs once it's operational.
The outlook for the the central Puget Sound region isn't as optimistic, according to a new economic study from the Puget Sound Regional Council issued Thursday.
"It's an economic model that creates very few jobs, certainly very, very few in the region … and has grave consequences for mobility here in Puget Sound," King County Executive Dow Constantine said in response to the study.
Low income communities in Kent and Seattle will be disproportionately affected by the coal train traffic, according to the study. Residential and commercial properties along coal train routes could decline as much as $282.3 million and $133 million, respectively.
"Communities along the rail lines will face a host of negative impacts, most of those are bad for business, with very little positive economic development from this particular activity and there's no assurance the costs of upgrades won't fall to us as well," Constantine said.
With a capacity to export roughly 54 million metric tons of coal per year, the terminal would be the largest facility of its kind on the west coast. It would also have implications for the state's rail system unlike any of the region's other coal export proposals.
If BNSF Railway is unable to increase capacity on its main north-south line through Puget Sound, according to the study, the added 18 coal trains per day to and from Cherry Point could cause delays that hurt export-related jobs, stunt port growth and squeeze out current commodities and passenger rail.
Anticipated delays caused by Gateway Pacific Terminal train traffic

A new study commissioned by the Puget Sound Research Council anticipates the 18 additional coal trains per day to and from the proposed Gateway Pacific Terminal would create delays at rail crossings.'
The Gateway Pacific project would increase delays at rail crossings between 38 and 85 minutes, according to the study. Those delays could be nearly three hours by 2035 without rail system updates. Rail traffic is expected to increase regardless of whether the terminal becomes operational, and the study did not account for the simultaneous increase in rail traffic of crude oil, which has also caused delays on the region's rail lines.
Terry Finn, a retired BNSF Railway lobbyist who serves on one of the council's advisory boards, said in a letter to the council that its study was the latest attempt by opponents to use scare tactics to stop the coal project.
The completed terminal could force an upgrade of existing rail lines, which would instead boost the region's economy, according to the study.
A business coalition formed to advocate for coal exports called the Alliance for Northwest Jobs & Exports issued a statement in response to the report.
It said that the report's overall conclusions are not supported by the facts and that "greatly exaggerated costs projected in the study just don't add up."
Kathryn Stenger, a spokeswoman for the alliance, said in an email that other studies have concluded that the Gateway Pacific Terminal would economically benefit the entire region. The Washington State Farm Bureau, Association of Washington Business, and Washington State Labor Council have all endorsed Gateway Pacific, she said.
A separate economic study done for the Washington Farm Bureau in 2013 concluded coal terminals would result in lower costs and new markets for other Washington businesses.
BNSF Railway says it is investing approximately $235 million in Washington state this year to expand rail capacity and to replace and maintain network infrastructure.
There are 77 crossings in cities and towns in the Puget Sound area. Kent Mayor Suzette Cook said they present a safety issue as train traffic increases.
"At grade crossings are also a major problem with deaths. We've had several deaths occur on our tracks within the last year," Cook said. "Cities are not in a position to shoulder the cost because other than avoidance of tragedy, the benefits are not there."