Gathering to Protect the Sacredness of the Salish Sea, the Nawtsamaat Alliance's "Symbol of Unity" for the blessing and launch at Daybreak Star.
September 7, 2014 at the Daybreak Star Indian Cultural Center, Seattle, WA
RSVP Here: http://www.brownpapertickets.com/event/832983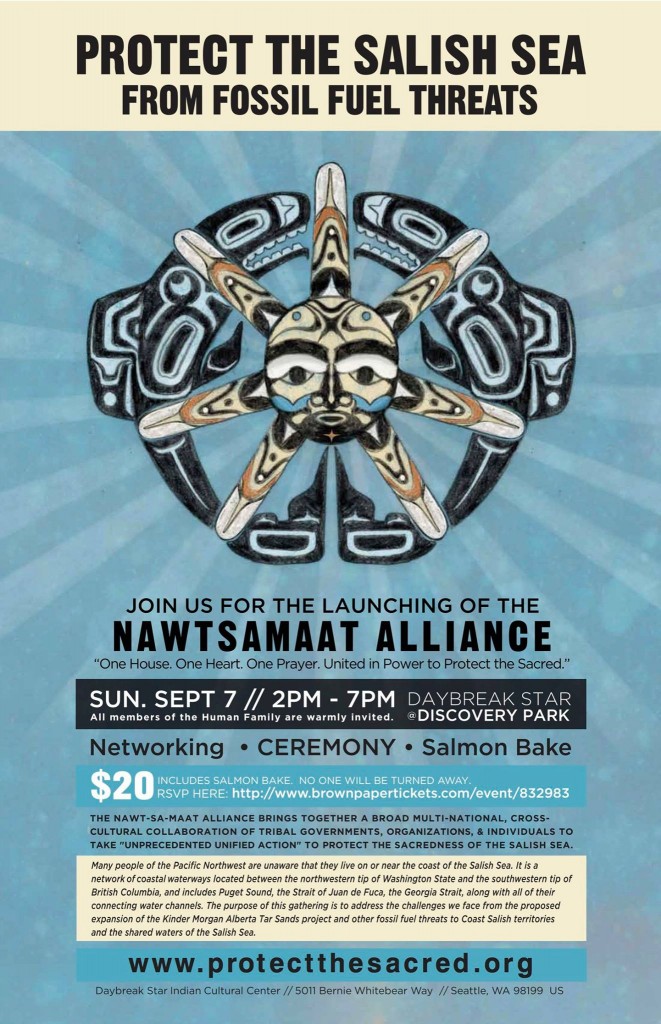 What does this Symbol of Unity Represent?
The North Star is symbolic of awakening, light, and wisdom. It is the guiding light – especially in dark times- and represents our unified direction for goodness. The 7 rays of the star represent the 7 generations we fight to protect.
The Orca whales represent the coming together of many peoples. Orcas are the guardians of the waters, the protectors, and guardians of travelers. They are a symbol of unity and of goodness.
"Our goodness is our strength."-Sundance Chief Rueben George
(This image of the North Star was inspired by a carving by Master Carver Tom Paul who gave us his blessing and permission to use it. Tom is from the Coast Salish Nuu-Cha-Nulth Nation. The orca whales were inspired when Sundance Chief Rueben George said that the Sacred Bundle Holder to be used at the International Treaty Signing had an image of a star similar to this one surrounded by two Orcas coming together in unity. Tim Paul, Tom's father, knew Rueben's Grandfather Dan George. Artist Heather Elder volunteered her time and beautiful talent to bring this Poster and Symbol together for us.)