By Tom Banse, NW News Network
A federal judge in Eastern Washington has ruled a cigarette maker on the Yakama Indian Reservation owes $58 million in unpaid taxes and penalties.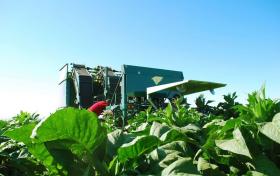 The privately owned tobacco company has tried — so far unsuccessfully — to assert a treaty right to trade tax free.
The U.S. Treasury Department went after King Mountain Tobacco Company for federal cigarette taxes unpaid since 2009. The cigarette factory is owned by a Yakama tribal member. The company's lawyers and the tribal government insist the reservation-based business is not subject to federal or state taxes.
King Mountain attorney Randolph Barnhouse bases this position on a specific provision of the 1855 U.S. treaty with the Yakama Nation.
"They gave up 17,000 square miles of land and they gave up a lot of other things for the right to be left alone on the reservation and to bring their goods to market without regulation," Barnhouse said. "There are only two treaties that I am aware of in the entire United States that have that 'right to travel and trade' provision in the treaty."
"People sometimes don't want to hear about the history and they say, 'Well, history; that was a long time ago,'" Barnhouse added. "Treaties are important and the promises that we made as a nation are important. They are especially important to the people who are living it every day, the Yakama people."
U.S. government attorneys argue that the tribal cigarette company's interpretation of the treaty is overly broad. "If no express exemptive language can be found in the text, the analysis is over. The claim of exemption fails. That is the case here," wrote Justice Department attorney Carl Hankla in one of his briefs.
Federal district court judge Rosanna Peterson agreed. Attorney Barnhouse said his next step will be to ask Judge Peterson to reconsider at least one aspect of her ruling. The cigarette maker could later appeal. In fact, two other cases pertaining to the company are already before the U.S. Ninth Circuit Court of Appeals.
Back story straight from Hollywood?
An FBI affidavit made public in connection with the federal tax case reads like a Hollywood movie, complete with a confidential informant, wire taps, undercover agents posing as wealthy wholesalers, a chartered aircraft for added impact and the presentation of a briefcase full of bundled $100 bills.
The affidavit even includes what would be a requisite scene in a thriller in which the informant is suspected of being a cop and is challenged by the purported bad guys. According to the FBI transcript, King Mountain Tobacco owner Delbert Wheeler addressed the informant and said it did not matter if the man were a cop "because if you are and you mess with me, I will rip out your eyeball, then I will kill you. You understand you may shoot me but it doesn't matter because in the end we will both go to the same place."
The affidavit also places current Yakama Nation Tribal Council chairman JoDe Goudy at the meeting where, according to the government, extensive discussion of contraband cigarette trafficking and false reporting of sales happened. Goudy was identified as King Mountain's sales manager at the time.
Neither Goudy nor Wheeler replied to interview requests on Friday. Heavily armed federal and state agents subsequently raided King Mountain Tobacco's cigarette factory in White Swan, Washington. An indictment or case stemming from that 2011 raid remains under seal.
Barnhouse said the government's treatment of his client "angers" him because he believes the U.S. is trying to put "these people out of business."
Cigarette factories on the rez
King Mountain Tobacco is one of two cigarette manufacturing operations on tribal land in the Pacific Northwest. The other is Skookum Creek Tobacco Company, operated by the Squaxin Island Tribe near Shelton, Washington. The Squaxin Island enterprise has managed to avoid litigation.
One reason for that is because, unlike the Yakama Nation, the Squaxin Island Tribe reached a cigarette tax agreement with the State of Washington. Both cigarette factories import blended tobacco from the southeastern U.S. to process into their cigarettes. King Mountain has also harvested some tobacco from fields planted near its Yakima Valley manufacturing facility.
If the Yakama Nation were to succeed in winning tax-free status for its tobacco sales, it could gain a significant price advantage. The federal excise tax stands at just over $10 per carton of cigarettes. State escrow fund deposits impose a further $5.60 per carton expense.
On its website, King Mountain says it currently distributes cigarettes under its eponymous brand name in eleven states, including Washington, Oregon, Idaho and California. Delbert Wheeler started King Mountain Tobacco in 2005.