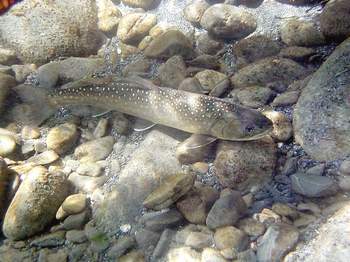 By Leah Leach, Peninsula Daily News
OLYMPIC NATIONAL PARK — Fish have migrated into the upper Elwha River for the first time in a century.
Olympic National Park biologists confirmed last week that two radio-tagged bull trout had migrated from the lower river through the former area of Glines Canyon Dam and reached at least as far as Rica Canyon above the former Lake Mills, some 15½ miles from the mouth of the Elwha River.
Four bull trout had been detected earlier as they passed a telemetry station upriver from the former Glines dam.
Thursday's walk along the river with handheld radio receivers confirmed it wasn't a faulty signal, at least for Fish 167 and Fish 200.
"The fish have made it" for the first time in 100 years, spokeswoman Barb Maynes said Friday.
Clearing the river for migratory fish passage was the point behind the $325 million Elwha River restoration project that began in 2011.
Both Elwha Dam, built in 1912 about 5 miles from the river's mouth, and Glines Canyon Dam, constructed in 1927 some 13 miles from the mouth, were made without fish ladders and so blocked migrating salmonid passage from a river once known for legendary salmon runs.
The 108-foot Elwha Dam was demolished by March 2012.
The last 30 feet of the once-210-foot-tall Glines Canyon Dam came down Aug. 26.
The passage of four radio-tagged bull trout was detected even before that final blast, Maynes said.
That was possible because the 30-foot stub of the dam did not extend all the way across the river channel.
Park biologists know a great deal about those two fish — and hope to know more soon.
Fish 167 was captured and radio-tagged May 7 about 3.5 miles above the river's mouth. It was 19 inches long.
This bull trout swam through the old Elwha dam site in late July before being noted again 8 miles upriver in early August.
Fish 200, measuring 20.5 inches, was radio-tagged June 25 about a mile and a half upstream of the river's mouth.
It swam past the Elwha Dam site July 20 and swam through Glines Canyon on Aug. 24, just before the final blast.
Did the bull trout originate in the Elwha River?
Researchers don't know yet, Maynes said, but they plan to perform genetic tests on fin clips taken when the fish were radio-tagged.
Those tests, which so far as Maynes knows haven't been scheduled yet, would tell biologists the origin for the fish, she said.
Bull trout in the Olympics often get around, according to the U.S. Fish and Wildlife Service.
Bull trout, which were listed in 1999 as a threatened species under the Endangered Species Act, may live near areas where they were spawned or migrate from small streams to larger streams and rivers or from streams to lakes, reservoirs or salt water, according to the agency.
In a May 2004 draft recovery plan, the agency said bull trout populations within the Olympic Peninsula Management Unit "exhibit all known migratory life history forms of this species, including fluvial [fish that migrate from tributaries to larger rivers to mature], adfluvial [fish that migrate from tributaries to lakes or reservoirs to mature], and anadromous [fish born in fresh water that migrate to the ocean to grow and live as an adult, returning to fresh water to spawn] populations."
Biologists will continue to look for signs of migrating fish in the upper parts of the 42-mile river, which with its tributaries offers more than 70 miles of fish habitat.
Eighty-seven fish have been radio-tagged so far, Maynes said.
Of that, 13 bull trout, two winter steelhead, five chinook and one sockeye salmon have been located above the old Elwha Dam site.
Each fish is equipped with a uniquely coded radio transmitter that differentiates it from all other tagged fish.
Radio signals from the tags are then detected by radio receivers and antennas.
Six telemetry stations were installed between the mouth of the river and just above the Glines Canyon Dam site.
These stations continually scan for and record data, documenting when individual fish pass by each station.
Biologists also manually track fish between Rica Canyon and the river mouth using handheld radio receivers and antennas.
Also involved in the radio-tracking program are biologists with the Lower Elwha Klallam tribe and U.S. Fish and Wildlife Service. Washington's National Park Fund has provided funding, Maynes said.
For more information, visit http://tinyurl.com/PDN-damremovalblog.