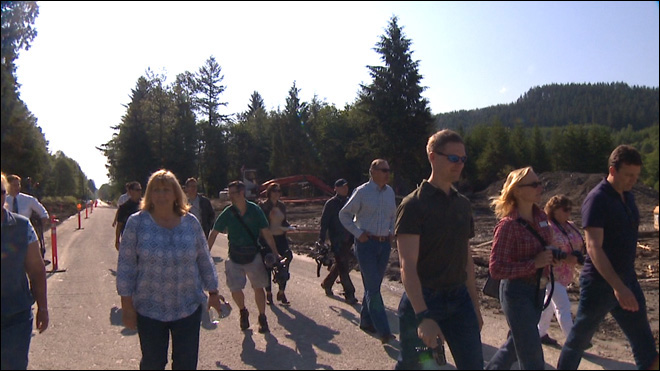 DARRINGTON, Wash. – With a moment of silence and a community walk, the stretch of highway in Snohomish County covered by a massive mudslide two months ago reopened on Saturday.
Gov. Jay Inslee joined the ceremony on Saturday as community members walked the mile-and-a-half stretch of Highway 530.
The March 22 mudslide that covered the road in debris killed 42 people. One other person, Kris Regelbrugge, is still missing.
One of those who took part in the community walk was Diana Bejvl, whose son was killed in the mudslide. She stopped at the slide site to take some pictures of her son's badly damaged truck and saw a familiar sight lying there on a tree stump – a sweatshirt with a picture of Tootsie Roll Pop on the front.
"I go, 'You've got to be kidding me,'" she said after recognizing the dirty sweatshirt as one that her son, Alan, often wore.
"We'd always laugh at it," Bejvl said.
Bejvl said she saw her son a week before the mudslide and was supposed to have lunch with him and his fiancé on the day of the slide. They never made it.
"He's having the last laugh today," Bejvl said. "It's 'look what I gave you today, Mom?' And I'll take any gift from him that I can get."
Bejvl said she knows nothing will ever bring her son back. But she never takes for granted the memories she will always have of him.
"Value what you can, who you can, when you can, while you can,' Bejvl said. "Take that with you today and spread the love."
After she and the others completed their walk through the slide zone, the highway was reopened.
The reopening is a great relief to local residents, who have been traveling from Darrington to Arlington by driving around the slide on a gravel Seattle City Light access road.
The reopened stretch of highway will have a single-lane for alternating traffic with speed limits of 25 mph.