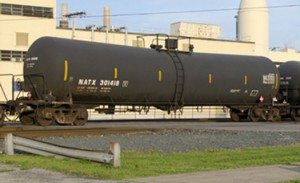 SEATTLE – About two dozen projects have been proposed in the past two years to move the Northwest toward becoming a transportation hub for coal, oil and gas to Asia.
A new Sightline Institute report examines the combination of rail, pipeline and fuel terminal proposals across Washington, Oregon and British Columbia. Report author Eric de Place, Sightline's policy director, said public input is critical as local land-use agencies determine the fate of each project. Regionally, he said, he thinks Native American voices also will be important.
"It's almost impossible to overstate the potential for the Tribes to derail these plans," he said. "They have treaty rights with the U.S. government that allow them to, in many cases, put a stop to these plans almost immediately."
Last week's meeting of the Affiliated Tribes of Northwest Indians included a three-hour workshop on climate change. Last year, the coalition of 72 tribes passed a resolution opposing the transport and export of fossil fuels in the Northwest.
Deborah Parker, a council member of the Tulalip Tribes, said they are prepared to do more.
"Co-Salish Tribes, we're in 110 percent agreement," she said. "We do not want to see these oil trains here. Turning our region into a fossil-fuel depository and port of departure? It will not be economically beneficial – not anywhere near the degree that it'll be economically disastrous."
For the most part, she said, the tribes haven't been convinced that the job potential of the coal, oil and gas projects is significant enough to offset the damage to land, fish and wildlife.
Estimates in the Sightline Institute report indicate that Washington's ambitious plan for reducing carbon pollution can be tossed if all the fuel-transport proposals are approved. De Place said the changes would increase the Northwest's carbon footprint by three to five times.
"I think it's fair to say that most people are astonished at the scale of the transformation that this region is about to embark on if fossil-fuel companies get their way, and that decision is all happening within the next couple of years," he said. "The scale is much, much bigger than most people realize."
The Sightline Institute report is online at sightline.org.