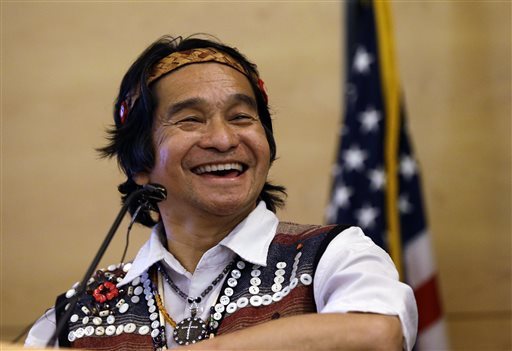 By Samantha Wohlfeil, The Bellingham Herald
BELLINGHAM — By a 6-0 vote, City Council officially recognized Coast Salish Day on the date federally recognized as Columbus Day at its regular Monday night meeting, Oct. 13.
At the Monday afternoon meeting that fell on the federal holiday, all six council members present said they would support an ordinance recognizing Coast Salish Day on the second Monday of October each year, the same date that is nationally set aside for Columbus Day. Council member Jack Weiss, who joined council members Roxanne Murphy and Terry Bornemann in presenting the ordinance, was absent.
At previous meetings, Murphy had announced she would bring the ordinance forward to honor local tribes on the day many still use to honor explorer Christopher Columbus.
Council received an outpouring of community feedback about the proposal, ranging from people who said, "Pick another day," to young tribal members who said they are still bullied for how they look, to general support from a variety of community members, Murphy said.
"I'm just hoping we can do right by the negativity the Coast Salish have experienced," Murphy said.
Neither the city nor the state officially recognize Columbus Day as a holiday. For council member Michael Lilliquist, that meant the recognition of Coast Salish Day would not take anything away from the city but serve to celebrate the city's historical connection with Coast Salish people.
"The names we use for streets and places here are Coast Salish names," Lilliquist said. "It's important to recognize that, not just as something of the past, but something that's still living today. They're still here. I'm not really happy with focusing on Columbus. I don't want to get into that fight."
Bornemann said he was happy to help Murphy bring the ordinance forward.
"We have a shared history with the Coast Salish people here. … Some of it has not been all that good," Bornemann said.
Bornemann recalled an incident from many years ago when he was downtown and called 911 for someone who needed medical help. He remembered being asked if the person was Native American.
"I said it was none of their … business, they needed to get someone down there," Bornemann said.
"I think this is one little step of recognizing what valuable contributions (the Coast Salish people) made to this area, and their long, noble history," Bornemann continued.
Council members Gene Knutson, Pinky Vargas and Cathy Lehman all voiced their support for the ordinance and thanked Murphy for bringing the proposal to council.
In the future, all second Mondays in October could include the raising of tribal flags at City Hall and events featuring speeches from tribal leaders, along with other traditions the Nooksack Indian Tribe and Lummi Nation or other Coast Salish tribes would like to bring forward, according to a proposal accompanying the city ordinance.
"Most fundamentally," the proposal reads, "the dream is that all future Coast Salish Days will remove any previous negativity from the former holiday and institute a day of celebration, culture, healing and respect."
Seattle City Council passed a similar ordinance Oct. 6, recognizing Indigenous People's Day.
Washington is one of several states that do not celebrate Columbus Day as a legal holiday. Banks and federal government offices are typically closed for the federal holiday. Bellingham city offices will not close for Coast Salish Day.
Read more here: http://www.bellinghamherald.com/2014/10/13/3911107_bellingham-council-poised-to-recognize.html?sp=/99/101/&rh=1#storylink=cpy