by Micheal Rios, Tulalip News 
On Thursday, March 12, the University of Washington held the open house and ribbon-cutting ceremony for the brand new longhouse-style building named Intellectual House. In the Lushootseed language its wəɬəbʔaltxʷ and is phonetically pronounced "wah-sheb-altuh".
The modern interpretation of a Coast Salish longhouse on the University of Washington Seattle campus fulfills a 45-year-old request by Native Americans to construct a building where Native Americans, Alaska Natives, and Indigenous students from around the world can gather and share their unique cultural interests.
wəɬəbʔaltxʷ is the third longhouse-style facility to be built on a Washington State college campus. The other two are located on the Evergreen State College in Olympia and on the Peninsula College in Port Angeles.
Ana Mari Cauce, University of Washington President, stated, "I'm very deeply honored to meet the elected leaders of our region's tribal governments who have made the journey to join us here today.  We stand on traditional Duwamish land and it is very apt that we have wəɬəbʔaltxʷ here. The University of Washington is very, very dedicated to serving the educational needs of our Native American undergraduate and graduate students.  This is a historic day for both the University of Washington and for the Native tribes of our region. It's our sincere hope that this place be a home for indigenous people across the Northwest, the U.S. and indeed around the world."
Built on university grounds that once belonged to the villages and longhouses of the Duwamish people, the Intellectual House represents a dream over four decades in the making. It will provide a comfortable Native environment to assist and contribute to the cultural comfort level of Native/Indigenous students who attend the prestigious Seattle campus.
The $6 million, 8,400-square-foot longhouse-style building is designed with the architectural elements of a traditional Coast Salish longhouse, including cedar planks and posts. It features a gathering space that can seat 500 people, a large kitchen suitable for teaching about Native foods and medicines, a smaller meeting room, and an outdoor area with a fire pit where salmon can be cooked in the traditional way.
"I don't want people to walk by and think, 'That's where the Indians go,'" said Intellectual House Director Ross Braine, who is Apsáalooke. "I want it to be, 'That's our longhouse.' That's what I want to hear."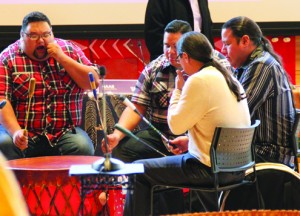 Intellectual House was designed by Johnpaul Jones, architect and founding partner of Jones & Jones and a Cherokee-Choctaw Indian. The main feature of Intellectual House is a large, open room paneled in cedar, with benches that run along one side.
Hundreds of Native American officials, University of Washington faculty and staff, and casual observers convened at 3:00p.m. on March 12 for the open house of Intellectual House, followed by an annual summit of Native and UW leaders. All those in attendance were treated to a complimentary meal featuring a twist on traditional Native American foods, such as teriyaki Pacific salmon skewers, trio of deviled eggs: fresh herbs, classic and smoked salmon, chipotle grilled sweet corn, and roasted green beans with sea salt.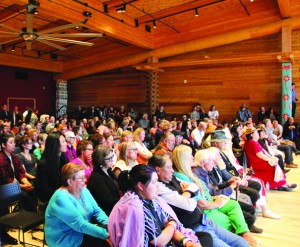 Native Americans are one of the smallest minority groups on the Seattle campus, with only 394 undergraduates. That's about 1.3 percent of all undergraduates, a number that is similar to the national percentile of Native American students attending collegiate universities. It's the Universities hope that with the creation of the wəɬəbʔaltxʷ they can being to see those numbers increase as Native Americans can see the commitment and dedication to their culture. The longhouse will help with recruitment and graduation rates of Native American students.
"We've always kept it in our hearts what drove this project," said Charlotte Coté, a UW American Indian Studies associate professor and member of the Nuu-chah-nulth people. "And that was to have a cultural and intellectual space here on campus that honors us as Indigenous peoples, that recognizes us as Indigenous peoples. A place where we can come and feel safe, we can feel comfortable, we can feel at home, and we can be together. That's what ωəɬəβʔαλτξʷ represents, that's what it symbolizes. This place just isn't a building, it has a spirit. It is alive. wəɬəbʔaltxʷ represents a spirit of sharing, of cooperation, but above all that community. A place where you will see the University committed to Indigenous education, to Indigenous knowledge, and to community here on campus."
Contact Micheal Rios at mrios@tulaliptribes-nsn.gov