By Grace Lyden, Inforum.com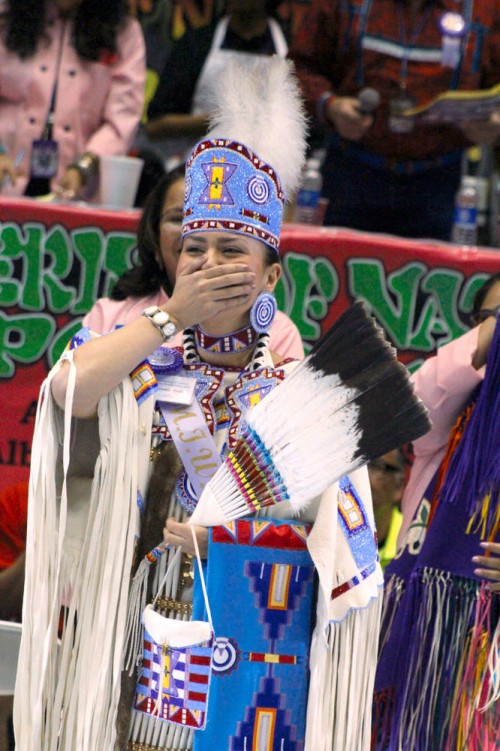 FARGO — All her life, Cheyenne Brady has watched the annual crowning of Miss Indian World.
"It's a role I have aspired to being since I was a young girl," said the North Dakota State University senior. "Granted, I didn't know the significance then, but when you're about 7 or 8 and you're just infatuated with all these girls with the pretty crown, you just want to be them."
On April 25, that dream came true.
As her family members screamed from the crowd, Brady, 22, was named the winner of the largest and most prestigious pageant for Native American women. She still can hardly believe it.
"Sometimes I want to cry, and then I'm so excited, and then I look at the crown and I'm like, 'Is this really mine?' The first few days, I felt like I was in a dream," she said.
The five-day competition takes place every year at the Gathering of Nations in Albuquerque, N.M., one of the largest powwows in North America, and includes five categories: essay, interview, public speaking, dance and traditional talent.
"Our tradition is incorporated into every part of the pageant," said Brady, who is from New Town on the Fort Berthold reservation of western North Dakota. "A big aspect of the pageant is knowing who you are, knowing your culture, knowing your history, knowing a bit of your language."
Brady is a member of the Sac and Fox Nation, and also represents the Cheyenne, Pawnee, Otoe, Kiowa Apache, Hidatsa, Arikara and Tonkawa tribes.
For her talent, she told a true story about a young girl who was killed carrying a white flag at the Sand Creek massacre of 1864, when the U.S. Army killed about 200 people in a Cheyenne and Arapaho village.
"It was a piece of culture that I feel like is not talked about enough, and that's why I wanted to present that story," Brady said.
Out of the 21 contestants, Brady also won the awards for dance and essay — just like the first time she entered, in 2011.
"In the moment, I was like, 'Oh gosh, I've been here before,' but luckily I did better in the other three (categories)," she said.
When Brady didn't win as an 18-year-old, she took a step back to learn more about her culture and who she was. Now, she's ready to inspire others to do the same.
Over the next year, she'll travel around to speak at conferences and powwows. She's already booked to speak at a tribal college commencement.
"My primary goal is to encourage Native Americans to be who they are, learn their culture, be excited about it and be anything they want to be," she said.
In the fall, Brady will start a graduate program at NDSU in American Indian public health.
"My people face many, many health issues," she said. "Diabetes is an epidemic among Native Americans. If I can make any difference in that area, I'll feel amazing."