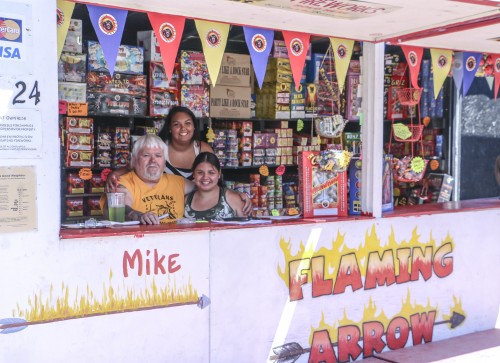 By Brandi N. Montreuil, Tulalip News
TULALIP- Fireworks stands and distributors have taken up temporary residence in the lot behind the Tulalip Resort Casino, which means that fireworks season is upon us and Boom City  is officially open for business.
This season boasts 139 fireworks stands, 11 concession stands and 3 arts and crafts vendors. That is 12 more firework stands than last year.
Despite the recent debate on a firework ban in neighboring Marysville, stand owners expect a bountiful season. Many stand owners are fully stocked and ready to barter prices on the first day.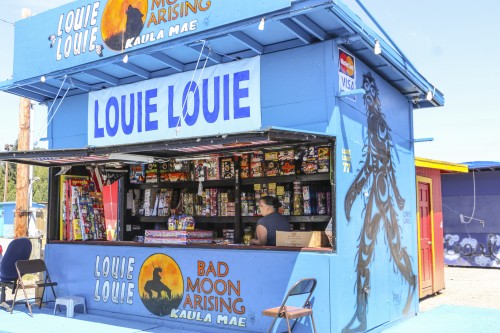 According to Washington state law it is illegal to discharge illegal fireworks, however, this does not include the reservation, which is subject to Tulalip and federal firework laws. This allows stand owners to sell fireworks prohibited by Washington state laws. To compensate buyers, Boom City provides a lighting area where fireworks banned off-reservation can be discharged in safety.
In Marysville residents are limited to discharging legal fireworks on July 4 from 9 a.m. to 11 p.m. only.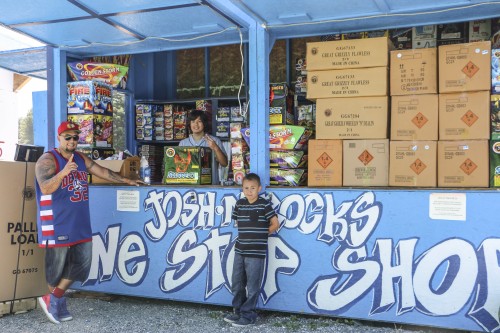 Safety is top priority for the Boom City Committee which is responsible for the organization and compliance of stand owners. To ensure safety of stand owners and visitors, security personal are on-site throughout the selling season. Tulalip Police Department also maintains an active presence with K9 units and foot patrols to discourage illegal activity.
Boom City will close late evening on July 4. Hours of operation are 6 a.m. to midnight. The lighting area is open all hours of operation except when a memorial show  or demo show is scheduled.
For more information please visit the Boom City Facebook Page.
Brandi N. Montreuil: 360-913-5402; bmontreuil@tulalipnews.com