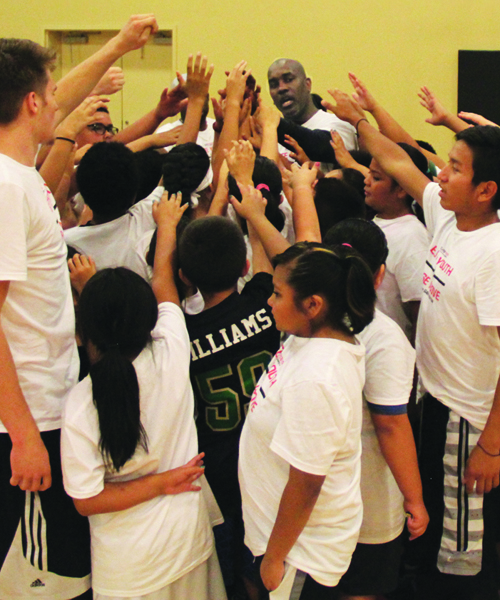 by Micheal Rios, Tulalip News
On Saturday, September 19, the Tulalip Youth Center hosted Gary Payton's youth basketball camp. Targeting basketball players in the 5-12 and 13-18 age range, the camp offered skill development under the supervision of the Seattle SuperSonics Hall of Famer and legend, "The Glove". Presented in partnership with RISE ABOVE, Elite Youth Camps and the Tulalip Tribes, the basketball camp marked the launch of a new movement to empower and create resilience in future leaders in Indian Country using sports as a modality.
RISE ABOVE was founded by Jaci McCormack, an enrolled member of the Nez Perce Tribe, to empower Native youth to live a healthy lifestyle and provide awareness, prevention and character enrichment using the sport of basketball as a platform. The purpose is to connect with the urban Native youth on a level that they can relate to and understand in order to create a lasting impact on their lives.
"I have worked with some extremely talented and passionate people who helped develop the Native youth initiative: RISE ABOVE," explains McCormack. "Although the vehicle to attract youth is basketball, we are dedicated to empower youth through education and prevention. RISE ABOVE basketball, RISE ABOVE your circumstance to live your best life each day. Along with our message, we are excited to bring the star sizzle to tribal communities, while creating more local heroes for our youth."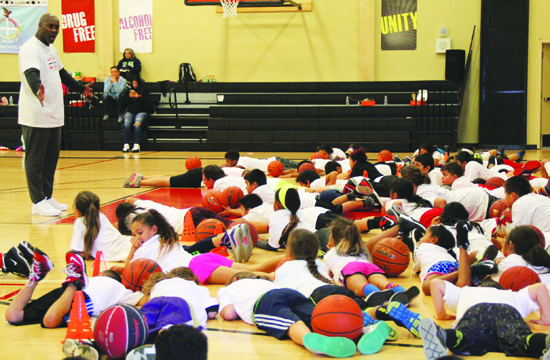 Elite Youth Camps organizes camps, clinics, tournaments and non-profit community events for professional athletes and their respective teams. In our case the professional athlete was Hall of Famer Gary Payton and his team of 100+ Tulalip youth who were registered for basketball camp.  With the assistance of Payton, Elite Youth Camps taught our youth the importance of hard work, teamwork, discipline and self-respect. Their focus was to provide the young Tulalip athletes of all skill levels with the instructions and training that have made some of the NBA's brightest stars elite on and off the court.
"This organization was developed from its love for education, athletics, and philanthropy," says David Hudson, affectionately known as Coach Dave by his campers, and owner of Elite Youth Camps. "We emphasize that sports are similar to life; what you put in, you get in return."
Coach Dave uses his immense background in basketball, as well as his relationships with professional athletes to plan and execute the best camps around. He graduated from Rainier Beach High School in Seattle before playing college ball at the University of Washington. When his playing career concluded he decided to combine his love for basketball and his passion for helping the youth and made Elite Youth Camps a reality.
As an urban youth just wanting to play basketball, Coach Dave remembers attending Gary Payton's youth basketball camp as a child and the lasting effect Payton's camp left with him.
"He was my favorite player growing up. I do what I do because of my experiences at his camp." says Coach Dave. "I try to do for kids what camp did for me: spark an interest and just teach work ethics, discipline and all the skills you've got to have in life no matter what you want to do. Even if you are a doctor or a librarian, you have to know when to be quiet, know to project yourself when you speak, and work hard at whatever you do. We want to teach life lessons that are bigger than basketball."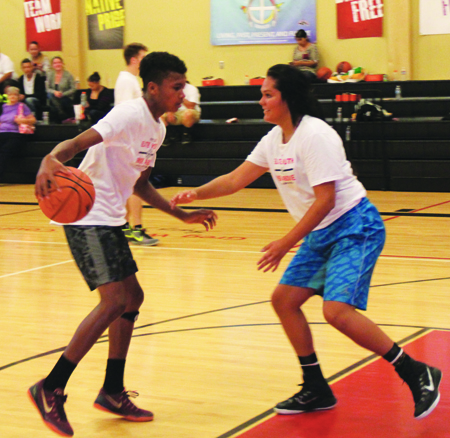 Though Coach Dave primarily leads the basketball drills with help from his assistance coaches, "The Glove" is ever-present with campers who get plenty of opportunities for autographs and pictures with the nine-time NBA All-Star.
The camp started at 9:00 a.m. Saturday morning and continued until 4:00 p.m. The camp was broken up into two 3-hour sessions. The early session was all about basic basketball fundamentals and technique on the individual level, while the afternoon session focused on group drills emphasizing sportsmanship and teamwork.
In between sessions the 100 or so Tulalip campers had a 1-hour break to enjoy their catered lunch provided by Youth Services. During the lunch hour, camp coaches and volunteers were able to explain and pass-out a wellness survey to the kids. The survey, consisting of questions regarding drugs, alcohol, bullying and self-awareness, will be used as a barometer to get a general feel for the wellness of the Tulalip youth. Results of the surveys will be compiled and processed by RISE ABOVE before being passed on to our own Youth Services department.
Also, during the lunch break it came to the attention of the syəcəb that there was a handful of Native youth who made quite a journey to Tulalip to participate in the camp and meet Gary Payton. A family with three eager young basketball players came from the Confederated Tribe of the Colville Reservation, while another family, the Vanderburgs, journeyed all the way from the Confederated Salish & Kootenai Tribes (CSKT) of the Flathead Reservation, located in northwest Montana. The Vanderburgs held a frybread and chili dog fundraiser at their local community center in order to pay for their kids' entry fees and travel expenses for the Tulalip basketball camp.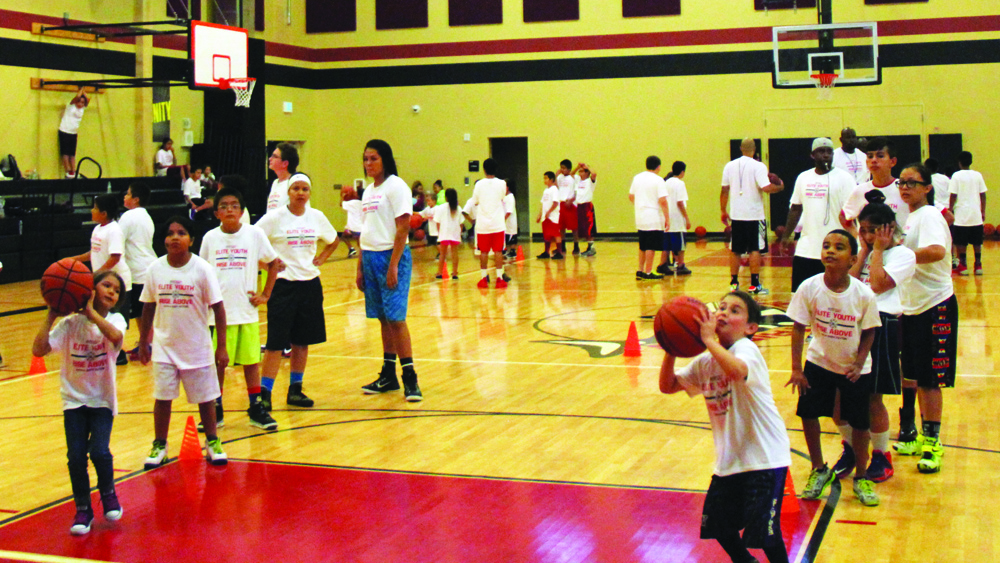 Proud mother Chelsi Vanderbug said, "It was a lot of work to get my son and daughter here, but I knew it would pay off. All the staff and coaches of this camp are people who really care about the youth. They had very good speeches about their journeys in life and provided lots of motivation on the importance of education and making good choices. Gary Payton was all about getting the right message to the youth about how they are our future. I was very impressed. My kids truly enjoyed this camp and opportunity to attend."
Concluding the camp, each coach shared heart felt words with the kids and thanked them all for allowing the coaches the opportunity to work with them. The last to speak was the icon Mr. Gary Payton.
"It's been a pleasure for me to be here today. This gave me the experience to go back home and be able to say that I worked with a group of kids who love the game of basketball, but who love themselves even more. I love and admire each and every one of you. I hope that when I come back, all of you who are here today will be able to tell me your goals in life and plans to achieve them. Everything will not always go your way. There will be both losses and wins, like with basketball, but if you give everything your best shot and learn the lessons along the way, you will come out a winner."