By Niki Cleary, Tulalip News 
If you attend tribal gatherings on a regular basis you've probably heard concerns about the fact that we hold funerals in the same places that our kids play. You've heard frustration that one event was cancelled to make room for another. You may have opted not to rent a building for your birthday or reunion from the tribe because of the potential that it would be cancelled. What if we had a place dedicated to gathering together? Somewhere to celebrate, meet about the governance of our tribe and hold ceremony, as well as a place to hunker down together in case of an emergency or natural disaster. A Gathering Hall has been on the community wish list for years and now it's becoming a reality.
For Executive Director of Housing, Jay Napeahi, the Gathering Hall is one more step in building shared spaces and walkable neighborhoods within the heart of the reservation. Jay's department is also planning for parks, walking trails, neighborhood stores and other amenities.
"It only makes sense, if we're bringing people out here [to live], that we serve that population. We want to provide services so that you don't have to leave the reservation. We want to bring services back to the marina. At the Everett Marina, for example, you have places for fishermen to do things, eat and get supplies then get back on the water. If you're a fisherman, our marina is not really serving that purpose, other than mooring your boat. You can't get supplies or refuel.
"Raising kids, when we were walking around we just wanted a place to get something to drink, or change your kid, maybe someplace to watch the wildlife and enjoy the area. We always thought it was important to walk trails. [Cultural Resources] used to have a historic pictograph trail. We're developing to bring that back to the area."
On January 23rd, the Housing department presented potential sites for the Gathering Hall to the community and asked for community input.
The three sites under consideration are: The Administration Building – Site A, "Old Boom City" – Site B, and "Autoshop" – Site C. The architects who reviewed the sites evaluated each for: relationship to the community; ease of access and connectivity; challenging site conditions; views provided to and from the properties; potential impact on adjacent residents and businesses; and public safety hazards. None of the sites are perfect, and none are significantly more expensive to develop, which is why it comes down what people want.
While the plans for the building aren't complete, there are some general ideas about the size. The gathering hall itself, not counting lobby, offices restrooms, etc., is estimated at 14,000 square feet. For comparison, the Orca Ballroom is 12,000 square feet. It has a capacity of approximately 2,000 people and will include 428 parking stalls. The kitchen is an additional 10,000 square feet and includes spaces for cooking, cleaning, banquet set up, storage and support areas.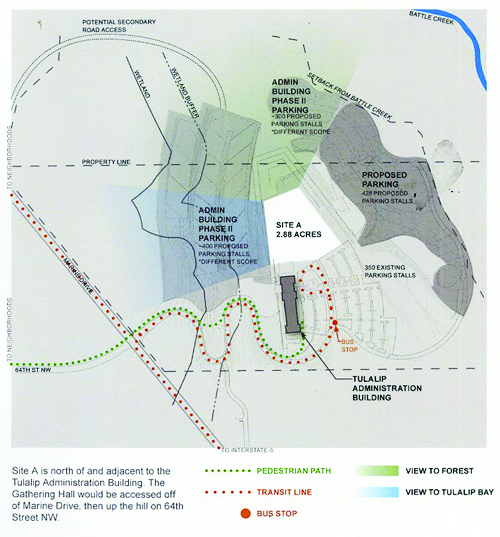 Site A – the Administration Building
When the current Administration Building was constructed, the site was prepped with plans to house a gathering hall as part of future expansion. This means that the site already has utilities, and the Administration Building generator was oversized to serve an additional building. It's also right next to much of the existing services provided by Tulalip and Tulalip Transit services the area, and both buildings can share parking. Because of its elevation, the soils are better for building and high water table and wetlands are not as much of an issue.
The downside of the site is that it's right next to one of Tulalip's primary workspaces and gatherings may impact the workforce. Also, there is a single road currently entering and leaving the site. While another road can be constructed, the steep grade of both roads is a concern in winter and bad weather. For funerals, walking to the cemetery would likely not be an option due to the grade of the hill and distance from the cemetery.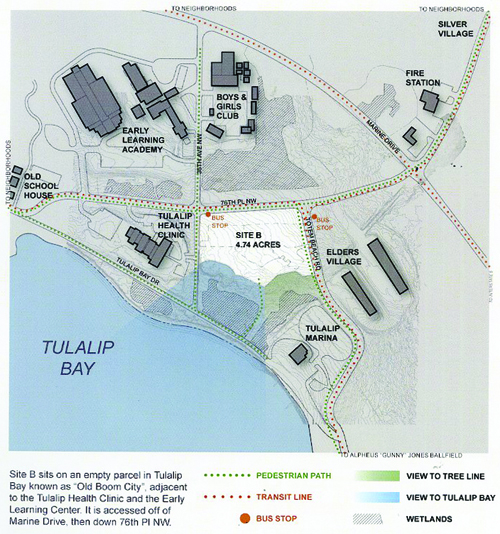 Site B – Old Boom City
This site provides some of the best views of the bay. It's proximity with the Karen I. Fryberg Health Clinic, Betty J. Taylor Tulalip Early Learning Academy, Tulalip Boys and Girls Club, Elders Village and the Marina mean that it's centrally located and already a commonly accessed area. The site holds many fond memories for the community and was a favorite in the room.
The cons of this site include its natural composition. Surrounded by wetlands and fill soils, it's not the ideal site for building. Much of the fill would need to be removed and replaced, and wetlands would have to be mitigated. In order to accommodate the size of the building and parking, the road may need to be moved. For funerals, walking to the cemetery would be a challenge. Additionally, the area has previously been proposed as a community park, if chosen for the gathering site, it would no longer be available as a park site.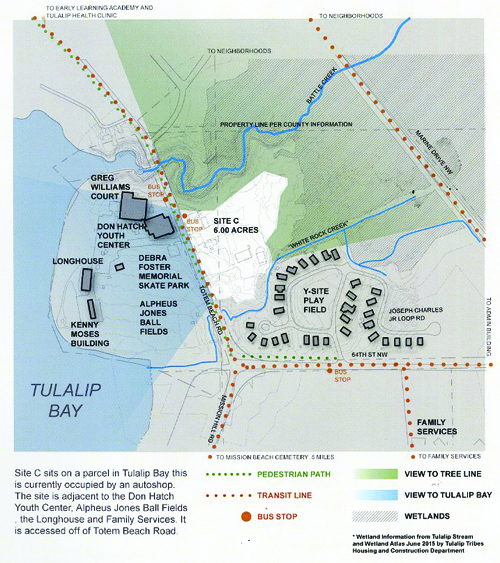 Site C – Autoshop
Centrally located near the Don Hatch Youth Center, the Autoshop site seems ideal for many events. It's within walking distance of the cemetery and several neighborhoods, and is serviced by public transportation. The site can be built to provide shared parking between the Youth Center and Gathering Hall, and both spaces can be opened for a campus feel during some events. There are currently adequate utilities and good road access to the site.
Unfortunately, the shared space can also be a detriment when two events happening at the same time have a different feel, for example, a funeral and a tournament. The shared parking can mean that simultaneous events can put the parking lot over capacity.
Community comments
Approximately 10 community members attended the meeting; four gave input. Most of the comments focused on the need to be connected to the bay, and the potential expense or workability of the sites. Jay assured the community that each of the sites is workable, and while the price tags may look big or small, from a personal budget standpoint, none of the sites is cost prohibitive.
The below comments were provided by the four community members who spoke.
Site B, Boom City – Re: the size of the site 
"That's not a big challenge, you've got land above and across the road, below you have to worry about the fill." Don 'Penoke' Hatch
Site A, Administration – Re: the cost of the sites 
Does one cost more or take longer? No, about the same? The Admin Sit is the least costly site to build on relative to the other two." Willa McLean
Site B, Boom City – Re: proximity to Tulalip Bay
"We're water people. We don't barely have any place to look at the water, we have a limited amount of space for tribal members to make use of, we should look at it as a tribe. I think we should be close to the water." Virginia Carpenter
Site C, Autoshop – Re: parking
"If you utilize the parking, you eliminate activities at the gymnasiums." Don 'Penoke' Hatch
Site C, Autoshop – Re: parking/current facilities
"I don't think there's a conflict if we add more than 428 stalls. This is the only site that would displace existing business. I personally think we need more than 428 stalls." Margie Santibanez
Site C, Autoshop – Re: previous intentions for the site
"Ginny, you probably remember when your dad was on there. Part of that was dedicated to recreation. They already got that on recreation land That's dedicated by our ancestors to take care of recreation. Years ago, by our ancestors, that was dedicated, that land. I don't know how far it went, but it's there." Don 'Penoke' Hatch
Site C, Autoshop – Re: current uses
"If we have that in mind for multiple events, why hasn't the Board thought about centralizing Auto Maintenance and make that a true youth campus or get rid of Auto Maintenance and uproot it and put it somewhere else." Willa McLean
All sites – Re: costs
"I know you said don't be motivated by costs, but do you have a cost figure?" Margie Santibanez
Response: the lease expensive site is the Administration site, next is the Authoshop site, the most expensive is the old Boom City site.
Site A, Administration – Re: proximity to Tulalip Bay
"You can't see the water from here, that's out, we need to be on the water." Willa McLean
Site C, Autoshop – Re: shared use
"I think we should be looking at the building separate from recreation because now, when we have a funeral, we are looking for parking. It should be totally separate from the ballfield. Too much congestion." Virginia Carpenter
Site B, Boom City – Re: emergency uses
"The Early Learning Center, the Boys and Girls Club, our kids could just run to that building." Virginia Carpenter
Site B, Boom City – Re: site work
"Boom City, move the road up, eliminate the road, and bring the two roads down and you can make it happen. Cut to the chase, we can go over and over, just move the road up and move the building up. I realize it's wet grounds, I worked at the Boys and Girls Club and helped put it in, I think we aught to just cut to the chase. Look at all the congestion we have now. I don't want people trying to do their job there, or at the Y-site, you have people playing basketball, soccer and people praying across the road." Don 'Penoke' Hatch
All sites – Re: building uses
"Do we have a marketing plan for the Gathering Hall? Not just used for funerals…as a tribal member, if I make a decision, I want to look at the whole. Are we using it for General Council? I'm looking at how it's going to impact elders, etc." Margie Santibanez
All sites – Re: extravagant building
"We as Tulalip people want to have a Rolls Royce every time we build a building, I don't think we need to spend the money every time. We just need a Ford or Chevy, we don't need one where we have everything in the building. I think we're looking at it. Look at some of the buildings we built, but that Early Learning Center was so expensive and almost run us broke. We need to make sure we have a Ford or Chevy not a Rolls Royce, so we can have it and get it built. We don't have to have something seems like we're outshining Puyallup and Muckleshoot. It's a gathering hall, we're going to sit comfortable, we always want to have something better than someone else." Don 'Penoke' Hatch
Site B, Boom City – Re: wetlands/emergency management
"William was talking about what they did with building the Clinic, they had to run the runoff to the lower pond. Might have to do likewise and run the runoff to the lower pond, so the fish would go to the lower pond and not the runoff of where the clinic is. I appreciate what Virgnia was talking about, the safety factor, look at where the children are at the Boys and Girls Club, they could walk right to that building, if you look for the biggest part for the safety of our children." Don 'Penoke' Hatch
All Sites – Re: Cost
"With the ELA because it cost nearly twice as much as it should, should consider hiring a superintendent. I'm living in the construction world right now, I'm learning about , it's all right to have people working on the interim, but we need people to work on that problem, we have over and over and over." Willa McLean
"The biggest thing is have a good architect so that what is requested is put in there, because if we want to change it's on the tribe. But the district, on the school board, we made sure we had that architect that knew what he or she was doing, if we allow that to happen, that's what happen on this early learning center, there were so change orders." Don 'Penoke' Hatch
Site B, Boom City – Re: including existing departments
"I agree with the Boom City site, but bring in your departments, we know we need to replace the utilities in that area, get it all together so that everything that is going to impact is up front. That's the problem, we break ground then oh, we need this person in there." Margie Santibanez
If you would like to provide your input, there is still time. Please email Jay Napeahi at Jnapeahi@tulaliptribes-nsn.gov.