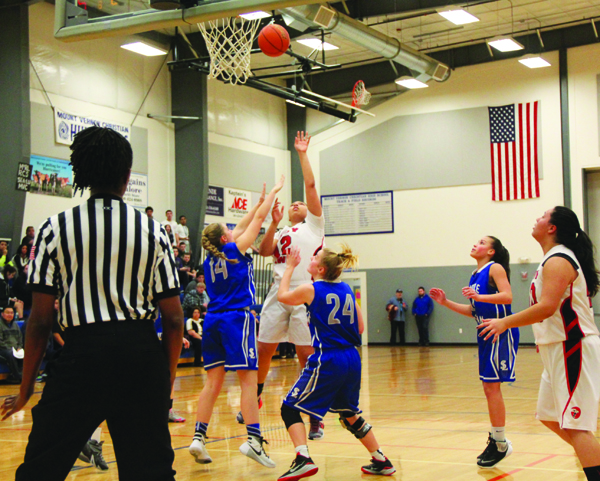 By Micheal Rios, Tulalip News 
The Tulalip Heritage Lady Hawks (21-0) went undefeated during their regular season, won out to claim the District 1-1B title, and were looking to keep their dominant run in tact as they played the Seattle Lutheran Saints (13-7) in the Tri-District Tournament semi-finals. The game was played on Tuesday, February 16 at Mount Vernon Christian High School.
It was obvious from the early going that the Saints had no answer for senior standout Adiya Jones, as she routinely got to her spots, hit shot after shot, all the while collecting rebounds. Adiya started the game red hot; connecting on 7 of 8 shot attempts and chipped in three free-throws. At halftime she had 18 points and more importantly the Lady Hawks held a 9 point lead, 28-19.
In the 2nd half, Adiya picked up a technical for commenting on a sketchy foul call. The resulting technical meant she would have to sit a stretch. With Adiya on the bench, the Lady Hawks did their best to score buckets and grab rebounds. Keryn Parks and Cyena Fryberg were rewarded with their hustle play, as both finished the game with 9 rebounds apiece.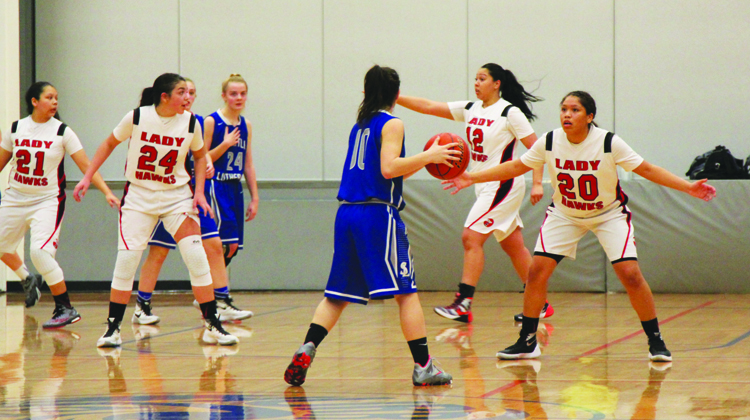 The Saints managed to carve away at the Lady Hawks lead and towards the end of the 3rd quarter they only led by 5 points, 33-28. Enter Adiya back in the ball game. From that point on the Lady Hawks finished the game strong by holding the Saints to only 9 points the remainder of the way. In the end, the Lady Hawks won by 11 points, 48-37. Adiya led all scorers and had a very impressive stat line: 32 points, 17 rebounds, 4 assists, 6 steals and 4 blocks.
Up next for the Lady Hawks is the Tri-District championship game where they will face off against the Mount Vernon Christian Hurricanes. The Hurricanes almost handed the Lady Hawks their first defeat the last time they played back in the District playoffs. In that game the Lady Hawks managed to escape with a 39-38 victory thanks to a last minute bucket by Aliya Jones.
Look for all the details of the Tri-District championship game and Regional coverage in the next issue of the syəcəb.