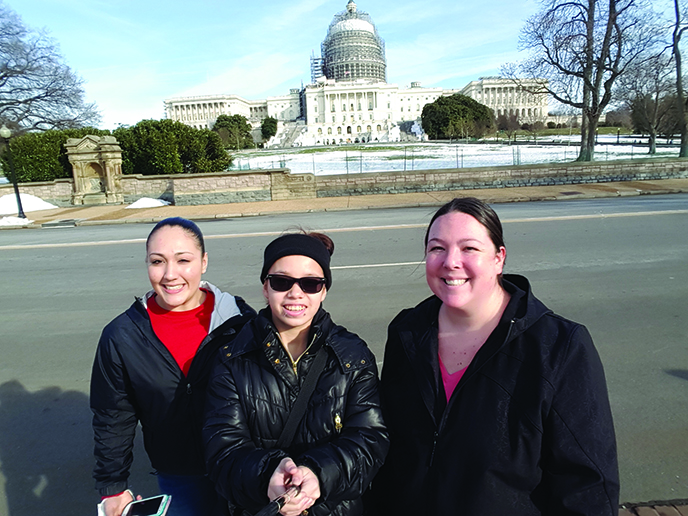 By Micheal Rios,Tulalip News;  photos courtesy of Sasha Smith, Tulalip Family Haven Project Coordinator
The Community Anti-Drug Coalitions of America (CADCA) held its 26th annual National Leadership Forum and Prevention Days at the Maryland Convention Center during February 1 – 4. CADCA is the national membership organization representing over 5,000 coalitions and affiliates working to make America's community safe, healthy and drug-free.
Count Tulalip among those communities represented by CADCA, as Tulalip tribal members Elizabeth Edelman and Priscilla Bumgarner attended this year's leadership forum. Elizabeth and Priscilla, both 15 years old, were afforded the opportunity to attend thanks to their frequent participation in Girls Group.
Girls Group, comprised of young Native women ages 14-17, is designed through Tulalip Family Haven and is located next to the Tulalip Boys & Girls Club. Girls Group aims to provide Native girls the support they need to become the most successful person they can be.
"In selecting the two young ladies to take to the prevention conference and tour Washington, D.C., we based the decision off of overall participation and best attendance at Girls Group," says Sasha Smith, Project Coordinator at Family Haven, who chaperoned Elizabeth and Priscilla on their trip. "These girls were so excited to get the chance to travel. Elizabeth had never been on an airplane before and neither had ever been so far from home without their parents"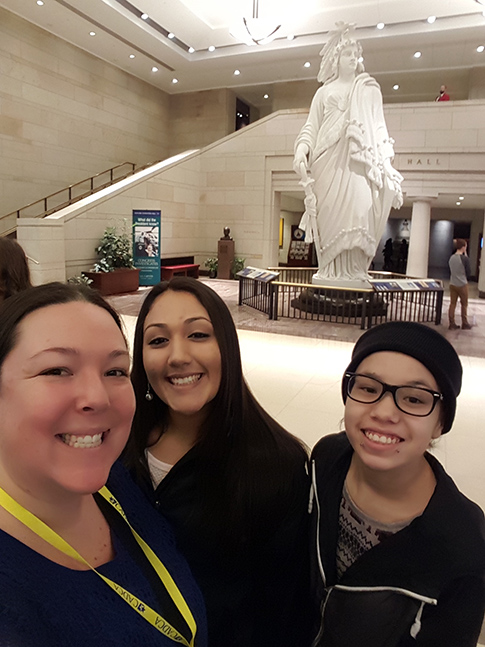 The young ladies spent four days in Maryland and Washington, D.C. learning about reducing drug and alcohol use in their community, how to be a positive and supporting leader, and gaining life experiences on the other side of the country. They received helpful information about different groups and communities who have been successful in reducing substance abuse.
"Better environment, better future," recalls Elizabeth is the line that really stood out from the seminars she attended. "It's so true. If nobody cared about their surroundings and the environment then things can't get better, they'll only get worse. If you care about your future then you'll care about your environment, who and what you have around you."
A project they got to participate in, and may even do here at home, was a sticker project. The youth, armed with message carrying stickers, went around to local liquor stores and convenient stores placing stickers on alcohol products, as a way to remind buyers that underage drinking and purchasing for minor is illegal.
Another idea they participated in was being part of a high school student panel dubbed the Myth Busters. They held a Q & A session for middle school students who are in transition to high school. The middle schoolers were able to ask any and all questions they had about the high school experience, most of which were debunked as myths by the current high schoolers.
Of all their experiences during the four days away from home, the most lasting was getting a guided tour of the capital, which included taking a three hour night tour of all the historical monuments.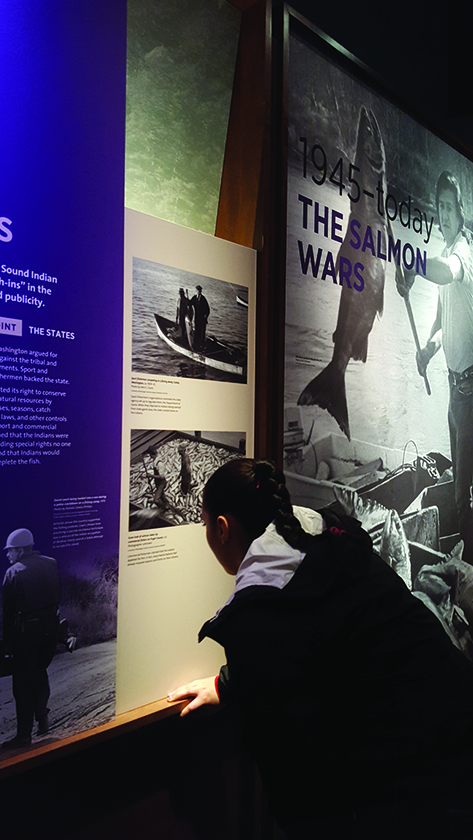 "The entire experience was pretty cool. Being out of here and off the rez everything was new, it felt like a vacation," said Elizabeth. "Touring the capital and seeing the Lincoln Memorial was most memorable for me. And learning about Billy Frank, Jr. He has his own exhibit in the Museum [of the American Indian]."
Girls Group meets every Monday, Tuesday, Wednesday and Thursday from 3:30p.m. – 6:30p.m. and is free to join. For more information on the Family Haven Girls Group or how to sign up, please contact project coordinator Sasha Smith at 360-716-4404.