Annual awards ceremony reminds officers they are valued
by Niki Cleary, Tulalip News 
Cast as superheroes or villains, depending on who called them, police officers take on work that is often hazardous, unrecognized and unwelcome. While every police force faces the day to day challenge of high risk interactions and angry clients, tribal officers are particularly imbedded within their community. Often reservation residents know their names, histories and families. Calls for service can lead to hard feelings when an officer has such close ties to the population they are policing.
Commander Sherman Pruitt, who helps recruit new officers, literally asks the recruits at every stage of the hiring process if they still want to work for Tulalip.
"There's a stigma around tribal law enforcement, the opinion that we're not real law enforcement," he said. "But times have changed, our tribal law enforcement officers are trained and educated and have the same authority as other agencies out there. I want our recruits to be fully aware, I don't want them to have any doubts, any regret and I want them know who they're going to be serving and what the department they're working for.
"In that last set of people that we hired," Commander Pruitt continued, "we have two with Bachelor's degrees and they could have gotten hired at any agency. They chose to work here. I'm impressed with all the candidates we hired, they were very informed and did their research about what the Tulalip Tribes is about. They looked into the Point Elliott Treaty and went above and beyond in learning who they were going to be serving."
The rewards of the job are rarely a straightforward 'thank you,' instead it's the satisfaction of knowing the community is safer, or the admiration of a child who wants to be a police officer. Which is why, the department sets aside one night each year to acknowledge the hard work and heart that each officer puts forth and to honor employees who have gone above and beyond.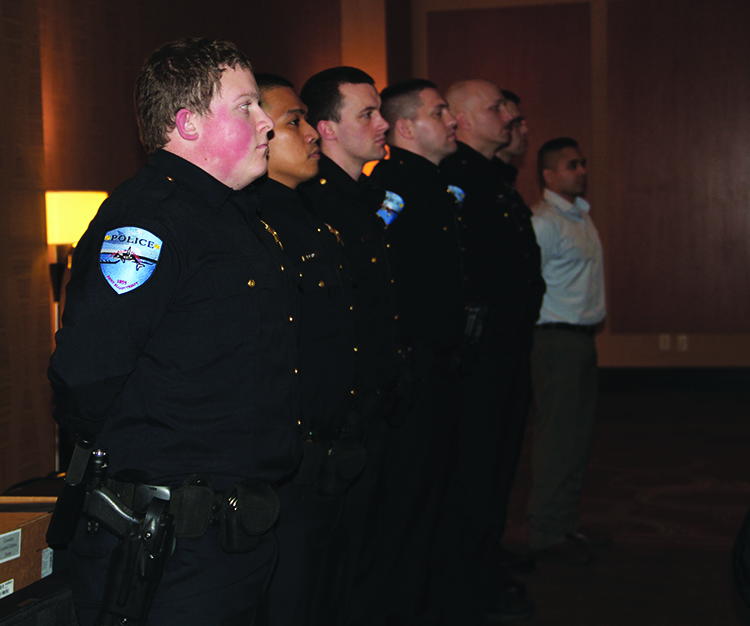 "We care about the community and we want to make a difference in their life," explained Commander Pruitt, describing the department's impact on citizens. "We're part of the Tulalip Tribes family. I want them to know that. I may not be Tulalip, but I'm family. Do families argue, disagree? Absolutely, but that love we have for each other doesn't change. We want our children to know this is a safe community and a thriving tribe.
"We want to assure them we protect their tribal rights and the community is safe. What I love about Tulalip is people are passionate. I don't take the things they say personal because it's very heartfelt.  I understand what they're going through, I love that they're passionate people who express what they feel, but they care. They may not tell us at the time, but they tell us later that they care. I love that. To our officers, we need to be vigilant and aware, but at the same time compassionate and understanding."
Asked why recognition is necessary, Police Chief Carlos Echevarria pointed out the behind the scenes work that his department is responsible for in addition to policing, including knowledge of constantly amended laws.
"Ever changing case law adds steps in the process," he explained. "All officers are required to be knowledgeable of all updates daily. We print them out and go over them every shift."
He explained that each of his officers possess unique strengths, the awards banquet is a way to let them know their efforts are appreciated.
"With training and experience come areas of expertise," Chief Echevarria clarified. "For example some officers do a great job in identifying impaired drivers, some excel at being aware when criminal activity is afoot and then investigating, not letting it go unnoticed. The banquet gives us a chance to acknowledge and for the department to show appreciation for those individuals who go above and beyond on a daily basis."
He lamented that it is always tough to choose the reward recipients, "While everyone does a great job, there are individuals that go above and beyond especially in specific areas. I truly appreciate their hard work day in and day out."
In addition to recognition from their peers, Board of Directors added their praise to the evening.
"I want to thank our men and women who serve and protect this community each and every day," said Tulalip Chairman Mel Sheldon. "Too many times we forget about our police until we need them. A lot of us remember when Tulalip was a 'lawless' place where predators came to commit crimes or ditch evidence. At that time calls to the other law enforcement agencies either got no response or brought a very heavy handed approach. Although it often goes unsaid, our officers are so very important to our community. Having a police force of such caring, passionate and focused individuals is a blessing.
Our officers take care of us no matter how scary the call, and they take care of us with simple things, like escorting our family members on their last journey during funerals. Rarely a day passes when I don't see an officer going out of his or her way to help. Every month in the board room we hear the statistics and we know what our officers are faced with. To our officers, you are making a difference for our people, keep up the good work."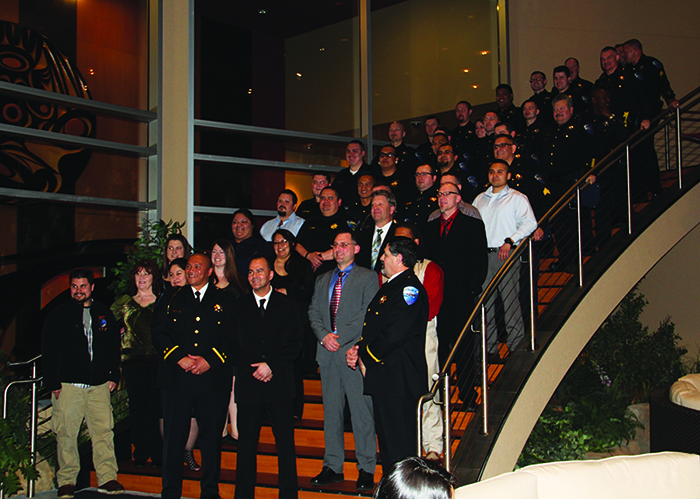 Awards
Senior Officer Aaron Cook – Chief's Award (10 years of Honorable and Faithful service to the Tulalip Tribal Police Department and the Tulalip Tribal Community)
Officer Charles Oxstien – Officer of the Year (The police officer who stood out from all the rest, who was a team player, who served our Tulalip Tribal Community and who also serves in the Army National Guard as an Army Ranger)
Communications Officer Allison Fogelstrom – Employee of the Year (Provided Outstanding Support by inputting Numerous Protection Orders into the National Database and provided Transcriptions to Detectives and Police Officers regarding investigative cases)
Certificates of Commendation
Detective Sergeant Wayne Schakel – Supervisor of the Criminal Investigation Unit and Drug Task Force, took on Criminal Cases and provided support to his subordinates on Tribal, State, and Federal Cases
Detective Garry Tilleson – Numerous Felony Arrests involving Drugs and Vehicle Seizures
Detective David Sallee – Investigated High Profile Cases and Supported the AUSA Prosecutor with Federal Court Case Convictions
Sergeant William Santos – Outstanding Supervisor who led by example and went above and beyond on mentoring his subordinates
Sergeant Jim Williams –Outstanding Supervisor who led by example and went above and beyond on mentoring his subordinates
Officer Tre' Pruitt – Officer who had the most Recovered Stolen Vehicles within the Department
Marina Security Officer Robert McCracken – Provided assistance in Saving a Fisherman's Life on a boat by administering CPR and an AED Device to the Fisherman until Medical Personnel
Evidence Technician Officer Donica Johnson – Outstanding Support of our Tulalip Tribal PD Staff involving taking on additional duties in making our department successful
Office Manager Ashlynn Danielson – Outstanding Support to Police Personnel and Staff, and Coordinator of Community Events
Letters of Appreciation
Senior Officer Jeremy Mooring  – Great supporting Senior Officer who helped cover patrol shifts to help serve our Tulalip Tribal Community, he mentored our new officers and took on additional duties with no complaint, and Coaches Youth Sports
Senior Officer Paul Arroyos – Senior Officer who was responsible for training and mentoring our new officers in being successful during the Field Training Officer Program
Senior Officer Clayton Horne – Supervisor who was in charge of Saving a Fisherman's Life on a boat
Communications Officer Allison Fogelstrom – Dispatcher who goes above and beyond their duties in keeping the morale up with the Police Personnel on their professional career and personal life
Communications Officer Sadie King– Dispatcher who goes above and beyond their duties in keeping the morale up with the Police Personnel on their professional career and personal life