By Micheal Rios, Tulalip News
On Monday, May 16, twenty-one Native students were honored with a graduation banquet at the Hibulb Cultural Center for their commitment to training for a better tomorrow. The 21 students, 10 of whom are Tulalip, were the latest cohort to complete an intensive three-month pre-apprenticeship construction trades program offered by our TERO Vocational Training Center (TVTC).
As far we know, the program, which is managed by the Tulalip TERO department, is the first and only state and nationally recognized Native American pre-apprenticeship program in the country. The program is accredited through South Seattle Community College and Renton Technical College, while all the in-class, hands-on curriculum has been formally approved by the Washington State Apprentice and Training Council.
The three-month program provides curriculum that teaches a variety of construction trades and skills that can last a life time. Upon completion, the graduate's dedication to a better future is rewarded with a wide-range of new employment opportunities now available to each graduate as they navigate the construction trades career path. In addition, students are trained and awarded certifications in flagging, first aid/CPR, and OSHA 10-hour safety training. Upon completion of the program students are ready to safely enter the construction work environment and demonstrate everything they've learned.
During the Hibulb graduation ceremony, Tulalip tribal member and TVTC graduate Michael Pablo received a TERO Good Samaritan Award for making a difference in our community by going above and beyond for his courageous efforts in running to the aid of an elder. At the last General Council there was an elder choking on her food. Pablo recognized the emergency situation and used the Heimlich maneuver he learned in class to successfully remove the food. After the incident Pablo stated he was able to take action only because of the first aid skills he learned as a part of the TVTC program.
Under the supervision of instructors Mark Newland and Billy Burchett, the students constructed four tiny houses for their final class project. These houses, which are approximately 120-square-feet, are being donated to residents of Nickelsville, a system of homeless encampments located throughout Seattle. The insulated houses will be a major upgrade for their soon-to-be residents as they offer electricity, heat, a much safer environment and, most importantly, a measure of stability for their new residents.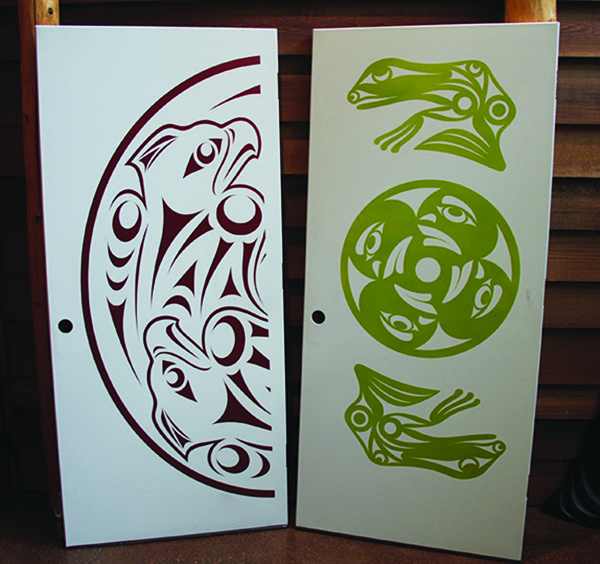 The tiny houses also feature a very Native American touch, as Tulalip artist Ty Juvinel added a tribal design to the doors of each tiny house.
"Some homeless people have nothing, really nothing at all, not even self-worth and if I can make some art or donate some items to help build another person's self-worth then of course I will," says Juvinel of his decision to contribute to the tiny houses. "The homeless are at our mercy and we have been neglectful towards their needs. I hope the people who inhabit these tiny homes can find themselves all over again. I hope the work the TERO students have sweat and bled over will be appreciated and help the homeless as they get back on their feet."
The TVTC construction trades pre-apprenticeship program is a unique, nationally known model that supports tribal members from sovereign nations across the United States. The program is not dependent on tribal hard dollars. In fact, zero hard dollars are used to fund it. Instead, due the dedication and commitment of so many individuals the TVTC program continues to grow and gain more recognition while being funded by the graciousness of the W.K. Kellogg Foundation, Ladder of Opportunity, Tulalip Charitable Fund, and the Washington State Department of Transportation (WDOT).
Since the Fall of 2013, when TERO took over the program, 94 students have graduated the pre-apprenticeship program. Of those 94 graduates, 38 have been Tulalip Tribal members, and 10 have either been Tulalip spouses or parents. That's 48 graduates from Tulalip and 46 fellow Native Americans from all over the region who have opted to train for a better tomorrow and complete the construction training program.
Among this graduating class is Gabriel Demarrias (Fort Peck Sioux) from northeastern Montana. Gabriel shared his story about how he was attending a Pow Wow close to his home in Montana when he came across a previous graduate of the TVTC program. Gabriel was amazed to learn of a pre-apprenticeship program for Natives, by Natives. He packed up what he could and moved in with family in Federal Way just so he could participate in the program. Every day for three-months he woke up at 4:00 a.m. in order to catch five buses to Tulalip and attend class. Following class he'd catch another five buses back to Federal Way and usually get home at 7:30 p.m. That's a 13.5-hour day, $19.75 worth of bus fare per day, and one monster commute in order to attend the one of a kind class offered by Tulalip TERO.
"The time and commitment I made was definitely worth it. I've graduated the class, learned so much, and made some really cool friends. Packing up and leaving home was a challenge, but well worth it," says Gabriel with a huge grin on his face. "My immediate plans are to start a career in construction, get into the Union, and not look back. It's time to get paid!"
Contact Micheal Rios, mrios@tulaliptribes-nsn.gov