Kalvin Valdillez, Tulalip News
"With every journey, wherever you go, you're going to find a way to make a difference in your own way. You could be the next President; you can be the leader of Pokémon Go! Whatever it is you believe in, you have to step up and find a way to make change. Somebody here might be changing the direction of this tribe in five to ten years, or maybe even tomorrow," said Tulalip Tribes Chairman Mel Sheldon as he expressed to Tulalip's youth the importance of activism during the first day of the Annual Community Wellness Conference.
This year's conference, held in the Orca Ballroom at the Tulalip Resort Casino, is focusing on Native American activism. The event is a three-day conference held July 28, August 4 and August 11, and is free to the Tulalip community. An outstanding lineup of keynote speakers is scheduled,  including Seattle based Native American carver and activist Rick T. Williams, the Native American sketch comedy group 1491's, and Native American Emcee Frank Waln.
As the opening speaker for the event, Chairman Sheldon gave a little history of both his, as well as the Tulalip Tribes, background. He spoke greatly of higher education and let the youth know that it is okay to go at their own speed while finding their path.
"Along the way on my educational journey, I learned a little bit about activism," said Sheldon. "Being active, what are you going to do in life?"
Sheldon explained to conference attendees the signing of the Point Elliot Treaty, the rights the treaty entitles tribes to, and why it is important to exercise those rights. He also spoke about the Occupation of Alcatraz by the American Indian Movement in 1969 and communicated that if you are passionate about a topic you should stand up for what you believe in.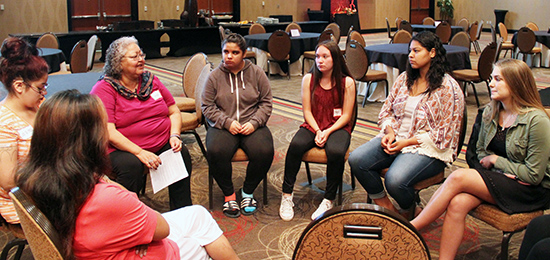 "When we find what really motivates us, we find a way to get there. Is there something there that really hits your heart that you've got to get up and protest? You will want to be part of changing the social fabric of society," said Sheldon. Crude oil, mascot names, equal pay for women, gun rights, and support for the LGBT community are issues that are currently affecting today's society Sheldon pointed out, and that change can not happen unless you are active.
Sheldon stated that he is excited to see where life takes the group of young Tulalip tribal members. He closed the first day's workshop with some encouraging words for the youth by stating, "One day you will find something so important to you, you'll stand up and change the world for the better. You do have all that power in you!"